BetUs Sportsbook Review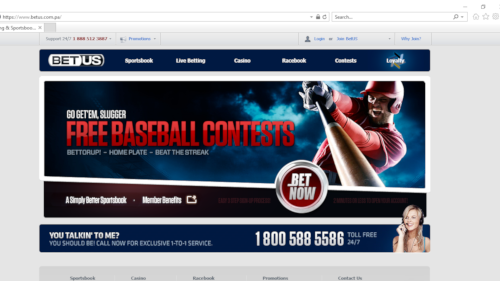 WE ARE NOT CURRENTLY ADVISING VISITORS TO USE BETUS – CHECK BACK TO SEE IF THAT CHANGES.
BetUS is a sportsbook that was once one of our top rated books. We dug up our old review of betus (you can read it below) and it looks like that review took place somewhere around 2011.
Well, here we are approaching 2021. What has BetUS been up to? That's the million dollar question and thanks to your readers, we can give you an update!
We asked our readers for feedback on BetUS prior to the 2020 season as we wanted to add them to our prestigious, limited list of preferred sportsbooks.
BetUS had briefly left the US marketplace a few years back due to the uncertainty of the marketplace at that time.
Since then, they have once again entered the US marketplace and the response we got from our readers was overwhelmingly positive. So much so, that we decided to add them to bettorsworld for football 2021.
Below is a review we did 10 years ago. At the time, both bettorsworld and BetUS had been around roughly 15 years.
Well, it's now 25+ years. That should tell you plenty about BetUS. You simply don't last 25+ years in this industry unless you're doing things right!
Have a look below at what we had to say about BetUS 10 years ago. Not much has changed!
BeUS Review Circa 2011
BetUs Online Sportsbook has been operating a licensed Sportsbook and Casino for just about as long as Bettorsworld.com has been around, and that's getting close to 15 years folks! (note – we have now been online 25+ years!)
In that time, they have risen to the top of the pack when it comes to customer service, bet offers and fast payouts. Throughout those years, many other sportsbooks have come and gone, while BetUs is not only still standing, they are thriving.
BetUs really shines in two distinct areas. Their unmatched bonus program and their unique proposition bet offers on everything from Reality TV to steroids in baseball and much more.
BetUs will put a line on just about anything you can imagine making them the #1 sportsbook for unique bet offers that no other sportsbook has.
Here are just a few of the unique bet offers BetUs has put out over the past several months. Bernie Madoff props, Gold Globe Odds, Next rapper to be busted odds, Bruce Springsteen odds and many more crazy bet offers to go along with their traditional prop offerings such as NFL futures wagers, World Series props and more.
BetUS has enjoyed a complaint free existence for as long as we have had them here on Bettorsworld, which makes our job very easy.
If you're looking for a sportsbook for all of your football betting needs and beyond, BetUs is a great place to start.
BetUs Methods of Deposit include VISA, MasterCard, Direct Bank Wire/Electronic Money Transfer/Check.
Their bonus offers are constantly changing, getting bigger and better all the time.
Here is what they are currently offering :
145% in Total Bonuses
50% Sign-Up Bonus
50% Reload Bonus
25% Refer-a-Friend Bonus
10% Gambler's Insurance
10% Extra in Casino Chips
We look forward to hearing all of your positive feedback!