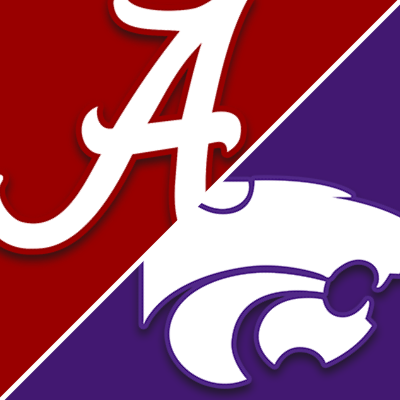 #5 Alabama Crimson Tide (10-2) vs. #9 Kansas State Wildcats (10-3)
In a great Sugar Bowl matchup between two top 10 teams Alabama takes on Kansas State in the Big Easy. No surprise that the Crimson Tide are the favorites posted at -6.5 with the total sitting at 55.5.
The betting public has slightly backed Alabama for the Sugar Bowl, as they opened as a 6-point favorite and as of December 27th are a 6.5-point favorite.
On the season Alabama is 6-6 ATS with an O/U record of 5-7 and Kansas State is 9-3-1 ATS with an O/U record of 6-7.
The Sugar Bowl is being held at the neutral site of the Caesars Superdome in New Orleans, Louisiana.
While many top players from programs playing in bowls have opted out due to the NFL Draft or transfer portal almost all of the key plyers for Bama and State will play in the Sugar Bowl.
Will Bama Be Fired Up?
Sure, Alabama is playing in an elite bowl game but can they be fired up, as every season they are not in the College Football Playoffs is seen as a disappointment? They won their last three games of the season and their two losses, which were both on the road, came facing top 10 teams in Tennessee and LSU.
The Tide rank fourth in the nation averaging 40.8 ppg and they have balance ranking 23rd in passing yards per game and 29th in rushing yards per game.
Bryce Young (3,007 yards 27 TD 5 INT) did not have the Heisman campaign many though he would but he was still more than solid. He finished the season ranking eighth in the nation in QB and in the last three games, all against ranked teams, he had six TD and only one INT.
Six Bama players have at least 290 receiving yards led by the duo of Ja'Corey Brooks and Jermaine Burton. The WR duo combined for 1,213 yards and 13 TD and each averaged over 15 yards per catch. RB's
RBs Jahmyr Gibbs (850 yards 7 TD) and Jase McClellan (61 3 yards 6 TD) are a tough 1-2 duo out of the backfield and each is averaging at least 5.8 yards per carry.
Kansas State gave up an average of 20.1 ppg this season and rank 55th in the nation in pass defense and 60th in run defense.
Keep the Streak Alive
Kansas State looks to keep their four-game win streak alive in this bowl game and in their last game scored an upset handing TCU their first loss of the season in the Big 12 title game.
The Wildcats are led by a run game that ranks 16th in the nation in rushing yards per game and only 92nd in passing yards per game.
Will Howard (1,423 yards 15 TD 2 INT) did not enter the season as the starter but was in the last several games and in the last two games had four TD and no INT. Five players for the Wildcats have at least 378 receiving yards led by the WR duo of Malik Knowles (719 yards 2 TD) and Phillip Brooks (543 yards 4 TD).
The big gun for KSU on offense is star RB Deuce Vaughn, who rushed for 1,425 yards and 8 TD and also had 378 receiving yards and 3 TD. He rushed for 277 yards with 2 TD in the last two games and he will get the rock early and often in this bowl game.
Alabama was not dominant on defense this season and gave up a lot of big plays but still rank 18th in the nation defending the pass and 35th defending the run.
Betting Trends
Alabama
2-5 ATS in their last 7 games overall
1-5 ATS vs. a team with a winning record
5-1 ATS in their last 6 Bowl games
Under record of 5-1 in their last 6 non-conference games
Kansas State
4-1 ATS in their last 5 non-conference games
4-1 ATS vs. a team with a winning record
5-1 ATS in their last 6 neutral site games
Under record of 5-2 in their last 7 non-conference games
Our Pick
Great Bowl game. The Tide should have no problem with motivation here as Saban will want to prove they belonged in the final 4 while Kansas State gets the chance to cap off a great season with a win over one of college football's elite programs.
This Alabama team was much different than recent versions in that they were lacking that dominant defense we grew accustomed to. Not that it was bad, but it wasn't dominant and gave up plenty of points.
Their defensive yards per point number of 16.3 ranks 21st of all bowl teams while Kansas State ranks 11th (17.2) and that's against a more difficult schedule.
Offensively, using the same stat Alabama is #3 to Kansas States 19th.
Texas, Texas A&M and Ole Miss were all able to play Alabama within one score and of course Tennessee and LSU beat the Tide. Kansas State deserves to be mentioned in the same breath as all of those teams. In fact, they beat LSU in their Bowl game last year.
We see no reason why Kansas State won't be in this one right to the end against an Alabama team with a defense that simply isn't as dominant as past editions. In fact, at home the Tide gave up just 240 yards per game on average which was 4th best in the nation. However, on the road they gave up a whopping 417 yards per game which ranked 87th in the nation!!
Finally, the strongest prediction from our model this time of year is the one that uses data from only the last 7 games. It removes any early season struggles or games against cupcakes and really shows current form. The prediction from our model using the last 7 games is Kansas State 30 Alabama 29
Kansas State +6.5 (wait for a possible +7!)