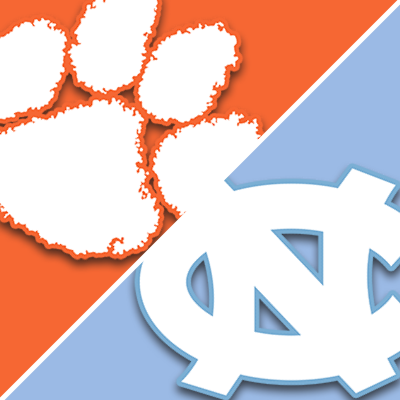 #9 Clemson Tigers (10-2) vs #23 North Carolina Tar Heels (9-3)
Clemson lost their last game of the season to keep them out of the CFP but they can get a great bowl if they can win the ACC title game facing a North Carolina team they did not face this season. No surprise that Clemson is the betting favorite in this game posted at -7.5 with a total of 63.5.
The public has slightly sided with North Carolina in this conference championship game, as they opened as an 8-point dog and as of Thursday they are a 7.5-point dog.
On the season Clemson is 6-6 ATS with an O/U record of 7-5 and North Carolina is 6-6 ATS with an O/U record of 6-6.
These teams have not met since the 2019 season and Clemson has won seven of the last eight meetings including the last four.
Three for Three
Clemson is 2-0 on the season facing ranked teams and they look to make it three for three facing 23rdranked North Carolina.
The Tigers rank 27th in the nation in ppg (34.3 ppg) and rank 39th nationally in rushing yards per game and 84th in passing yards per game.
DJ Uiagalelei (2,511 yards 22 TD 7 INT) not only leads the Tigers in passing yards but is also the team's second-leading rusher with 545 yards and seven TD. He has to get over the last game of the season where he was only 8/29 for 99 yards with a TD and a pick.
The Tigers have a balanced WR corps with four players with at least 373 receiving yards but Beaux Collins, who leads the team with 5 receiving TD, is out for this game with a shoulder injury.
Will Shipley (1,092 yards 14 TD) is a player that the UNC defense really has to key on, as he is averaging nearly six yards per carry and in the last game, even in a loss, he rushed for 132 yards and a TD.
The Tar Heels have had issues on defense on the season giving up an average of 30.3 ppg. They only rank 98th in the nation in defending the run and 112th defending the pass.
Forget the End
UNC has to forget about the end of the season where they lost their last two games to ACC teams that did not finish the season over .500 in conference play.
While the D for the Tar Heels has been an issue on the season the offense has not. The team ranks 14th in the nation averaging 37.1 ppg and have one of the best aerial attacks in the nation ranking eighth in passing yards per game.
The UNC offense is led by freshman QB Drake Maye, who has blown onto the scene and many are predicting that he will be the #1 pick in the 2024 NFL Draft. Her has passed for 3,847 yards with 35 TD and only 5 INT, ranks ninth in the nation in QB, and is also the Tar Heels leading rusher with 629 yards.
Maye has one of the better WR duos in the nation in Josh Downs (929 yards 11 TD) and Antoine Green (745 yards 7 TD), who is averaging nearly 20 yards per catch.
Joining Maye in the backfield is Elijah Green (443 yards 8 TD), who has rushed for 175 yards in the last two games, and Omarion Hampton (396 yards 6 TD).
Maye is the big gun for the Tar Heels and while he had a great freshman campaign, he only had one TD and two INT in the last two games where he only totaled 45 rushing yards.
Maye and company will be facing a Clemson defense that gave up an average of 20.9 ppg on the season but gave up 31 points in losing their last game. The Tigers rank 57th in the nation in pass defense and eighth in run defense. Clemson lost to South Carolina 31-30 in their last game where they gave up 360 passing yards.
Betting Trends
Clemson is 20-7 ATS in their last 27 neutral site games and they have an Over record of 7-3 in their last 10 games.
North Carolina is 3-8 ATS in their last 11 neutral site games and they have an Over record of 4-0 in their last four neutral site games.
The favorite has covered the spread in five of the last six meetings between these ACC rivals.
In the last seven games between these teams the Over record is 5-2.
Our Pick
This is a tough game for us to make a call on. On the one hand we believe Clemson has often been overvalued this year. We've gone against them a few times this year. Losing to South Carolina and almost losing to Syracuse at home was no surprise to us. They are a solid team but they still get credit for being the Clemson that won national championships while being no where close in talent.
On the other hand, as mentioned above, they are a solid team and our numbers do favor them here. Our model has them winning by double digits and they have a big edge in their ability to move the ball on the ground. Of all the teams in action on this championship weekend, Clemson is one of the best in yards per rush attempt differential at +1.1. North Carolina is one of the worst at -0.5.
The NC defense is non existent. Among the worst in the nation. But the offense is among the best. If South Carolina can throw for 300+ against Clemson we like our chances with the Tar Heel offense and their future NFL QB.
Not a strong play here but we've always had a soft spot for "live dogs". The Tar Heels are just that this week. Nothing to lose. Offense vs. Defense. We'll take the Offense.
North Carolina +8