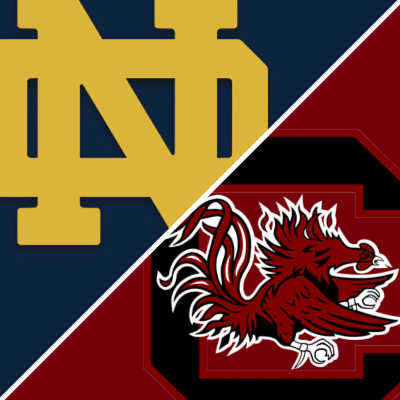 #21 Notre Dame Fighting Irish (8-4) vs. #19 South Carolina Gamecocks (8-4)
In the Gator Bowl South Carolina looks to take out college giant Notre Dame in a game where both are ranked and with identical records and each will be without some key players. The Fighting Irish are the lower ranked team but head into this bowl game as a 2.5-point favorite with a total of 51.5 points.
The public has really backed South Carolina in this bowl game, as they opened as a 5.5-point underdog and as of December 27 are a 2.5-point dog.
On the season Notre Dame is 6-6 ATS with an O/U record of 7-5 and South Carolina is 7-5 ATS with an O/U record of 7-5.
The Gator Bowl is being held at the neutral site of the TIAA Bank Field in Jacksonville, Florida.
Who Will Be Under Center for the Irish?
At the end of the regular season Notre Dame starting QB Drew Pyne announced he is entering the transfer portal and will not play in this bowl game Tyler Buchner is the likely starter coming back from injury earlier than expected and he stated the first two games and had no TD and two picks. Steve Angeli and Ron Powlus are also on the roster and head coach Marcus Freeman still has not decided on a starter.
Besides Pyne out a bigger loss may be Mackey Award finalist TE Michael Mayer (809 yards 9 TD), who is out and getting ready for the NFL Draft.
Notre Dame had won five in a row, beating two ranked teams, before losing their last game of the season against USC. With the QB situation in the air the team may lean more on the RB duo of Audric Estime and Logan Diggs, who combined for 1,557 rushing yards and 14 TD.
The loss of Meyer is big, as the next leading target for the Irish is Lorenzo Styles, who had 340 receiving yards.
At least the strength of the Irish is their run game, as they rank 41st in the nation in rushing yards per game and only 105th in passing yards per game. On top of that the weakness of the Gamecocks defense is a run D that only ranks 111th in the nation giving up an average of 197.2 rushing yards per game.
Three in a Row?
South Carolina ended the season winning three of their last four games, including their last two. Their last two wins were huge, as they knocked off two top 10 teams in Tennessee and Clemson and ended both teams' chances for a CFP bid.
Oklahoma transfer Spencer Rattler (2,780 yards 16 TD 11 INT) was up and down on the season but he exploded in the last two games passing for nearly 800 yards with eight TD and two INT.
Like the Irish the Gamecocks have a few key players out. However, for them the key ones are on the defensive side of the ball with three defensive backs and one defensive tackle opting out to get ready for the draft. All in all, USC is out eight starters in this game.
MarShawn Lloyd led the team with 573 rushing yards this season but is out after entering the transfer portal. The Gamecocks' second leading rusher is a TE, who entered the transfer portal as well and Juju McDowell may be the lead RB and this season he only rushed for 191 yards averaging 3.4 yards per carry.
South Carolina will have their top WRs and Antwane Wells Jr. (898 yards 6 TD) and Jalen Brooks (504 yards 1 TD) will be a handful for the Notre dame secondary.
On the season the Fighting Irish rank 18th in the nation in pass defense and 38th in run defense.
Betting Trends
Notre Dame
5-2 ATS in their last 7 games following a ATS loss
Over record of 6-0 in their last 6 games
South Carolina
7-2 ATS in their last 9 neutral site games
5-2 ATS in their last 7 games overall
5-1 ATS in their last 6 bowl games
Over record of 4-1 in their last 5 non-conference games
Our Model's Predictions
South Carolina            55.5          25   NEUTRAL 
Notre Dame                -4.5          30 full season data
  
South Carolina            55.5          38   NEUTRAL 
Notre Dame                -4.5          33 last 4 games 
  
South Carolina            55.5          25   NEUTRAL 
Notre Dame                -4.5          29 last 7 games
Our Pick
With the line move from -5.5 to -2 the value now lies with the Irish and that plays right into our hands here as that's the way we're going in this one. The strength of the Irish is their running game. They come in with a yards per rush attempt differential of +0.6 while South Carolina ranks 80th of 82 bowl teams with a YPRAD of -1.4.
The Irish should be able to control this game and with a line of -2 we're basically just being asked to pick a straight up winner.
NOTRE DAME -2