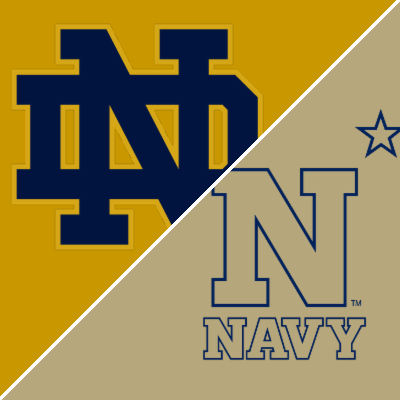 Notre Dame and Navy will make the trip across the pond to open up the 2023 college football season in Ireland. The Irish opened as a 20.5 to 21 point favorite which is where the game still sits as of this writing. Kickoff is 2:30 pm est. and the current posted total is 49, down from an opener of 50.
Don't miss out on the best consensus report on planet earth. All of the plays from the sharpest handicappers in the industry for pennies on the dollar. The current price won't last! Sign up now!
Here's a look at the meetings between these two teams over the last decade.
head-to-head history (lined games):
  
11/12/2022  Notre Dame               35  -17.0  vs Navy                     32
11/ 6/2021  Navy                      6  +21.0  at Notre Dame               34
11/16/2019  Navy                     20  + 7.0  at Notre Dame               52
10/27/2018  Notre Dame               44  -23.5  vs Navy                     22
11/18/2017  Navy                     17  +21.0  at Notre Dame               24
11/ 5/2016  Notre Dame               27  - 7.0  vs Navy                     28
10/10/2015  Navy                     24  +14.0  at Notre Dame               41
11/ 1/2014  Notre Dame               49  -14.5  ~@ Navy                     39
11/ 2/2013  Navy                     34  +14.5  at Notre Dame               38


If you applied this years line to the 9 games above Navy would be 6-3 against the number and 7 of the 9 games would have gone over the total. That would include last years 35-32 Irish win. In fact going back to 1990 Navy has been a 65% play against the number in this series.
Navy returns the bulk of it's defense from a year ago while Notre Dame fields one of the most veteran rosters in the country, loaded with returning talent.
Sharps Like Notre Dame
With that in mind, it's no surprise that several sharp college football minds have this game pegged as a Notre Dame blowout. In all likelihood this game closes Notre Dame -21+.
We're going to wait for that late line move in this one and take the extra bonus points with Navy +21 or more.
Both teams have had months to prepare for this game. The Irish started slow last season dropping their first two games to Ohio State and Marshall. In fact a quick look at Notre Dame games over the last decade during the first few weeks of the season finds several close games that the "experts" had pegged as blowouts.
Our model came up with a predicted score of Notre Dame 35 Navy 17 if this game was played at the conclusion of last season.
Time will tell how much better or worse each of these programs is in 2023 of course. But here in week 1, we think the travel and the rust factor for both squads gives Navy a good chance to stay within the number. The Irish win, but Navy gets the money.
Navy +21 or more