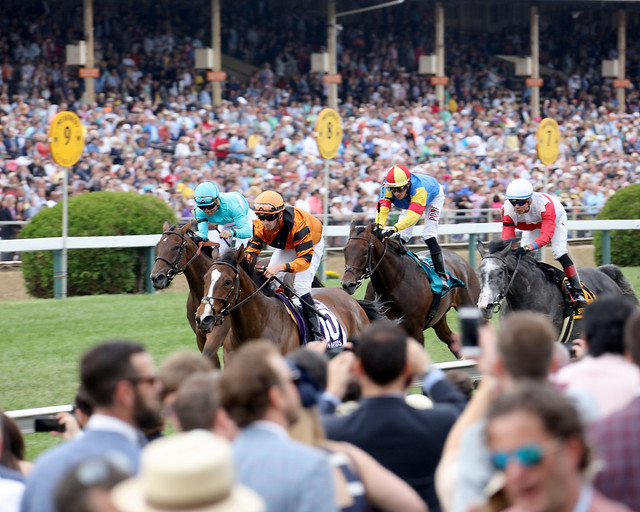 The Pick 4 is a great way to stretch your gambling dollars over several races while giving yourself a chance to bring home the big bucks. Preakness day is a rare opportunity in that gamblers worldwide will be pumping money into the pool and a gross total of $2 million has been guaranteed. Let's take a look at Pimlico's Pick 4 for Saturday which spans races 10 thru 13.
Race 10, Grade 3 Gallorette Stakes for fillies and mares, three-years-old and upward
#3 Thewayiam 10-1 is one of the classiest fillies in the race and shouldn't be such a big price. #1 I'm So Fancy 7-2 is a Group 3 winner in her native Ireland as a rule the European horses tend to be better on the turf. #2 Inflexibility 5-2 is the favorite, but could be vulnerable in her first start of the year. Nonetheless, she must be used. 
Race 11, Grade 3 Chick Lang Stakes for three-year-olds
#6 Gladiator King 6-1, winner of the Grade 3 Hutcheson Stakes, is the most accomplished runner in the field, but comes from a humble barn and isn't getting the respect he deserves. Could be the value. #8 Preamble 5-2 has looked like the "real deal" so far and is a perfect 3 for 3. Will sit a great trip behind the early speed and pass them all if good enough.
Race 12, Grade 2 Dixie Stakes for three-year-olds and upward
#12 Catholic Boy 3-1 is the horse to beat, but he might be vulnerable in his first start of the year. #11 Inspector Lynley 7-2 *BEST BET* is in good form right now and could win on his best effort. #7 Real Story 10-1 has looked good in two starts this year and will be forwardly placed. #3 Admission Office 12-1 must pass the class test, but has showed a lot of promise to this point.
Race 13, Grade 1 Preakness Stakes for three-year-olds
Our top three choices in this race are #7 Alwaysmining 8-1, #2 Bourbon War 12-1 and #11 Laughing Fox 20-1. All have the ability to win the Preakness and make this Pick 4 pay big bucks. Those looking for additional contenders might consider #3 Warriors Charge 12-1 and #13 Win Win Win 15-1. This is a great race to take a stand against the favorites.
FINAL THOUGHTS: It is advisable to play several different tickets where you single different horses in different races. This isn't the easiest sequence to find strong singles, but a couple of horses qualify. Our best bet, Inspector Lynley is a good horse to build a ticket around.