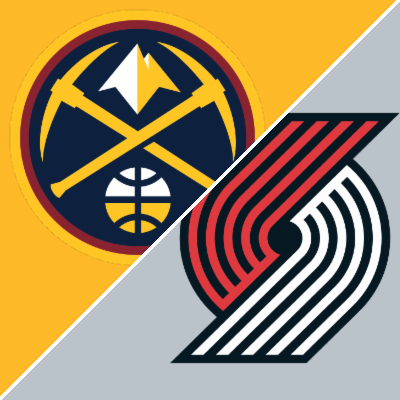 Denver Nuggets (48-26 35-39 ATS) at Portland Trail Blazers (43-31 39-35 ATS)
After a 14-point loss in Game 1 of this series the Nuggets returned the favor in Game 2 with an 18-point win to tie the series at a game apiece. This Western Conference playoff game can be seen on NBA TV.
The Blazers are a 4-point home betting favorite in Game 3 with a total of 228.
The Nuggets won Game 2 128-109 behind a strong game from MVP candidate Nikola Jokic and a big first half where they scored 73 points. while the team lost their only game against the Blazers in Portland this season it was the last game of the regular season and the starters did not play many minutes.
Denver had failed to cover the spread in five straight games facing the Blazers before doing so in the Game 2 win.
After scoring 123 points in the first game of the series the Blazers scored 109 points in the last game. They need to score to win and while they rank a legit fifth in the league in ppg they only rank 27th in opponents' ppg.
The Blazers have covered the spread in their last four games after an ATS loss in their previous game.
MVP Candidate Comes Through
In the Game 2 win Nikola Jokic came through in the clutch going for 38 points on 15-20 shooting and he also had eight rebounds. Denver shot a solid FG% of 53.5%, jumped out to a 12-point halftime lead, and won even though the Blazers shot a scorching 3-pt FG% of 48.5.
The Nuggets had four of five starters go for at least 12 points and the reserve duo of Paul Millsap and Monte Morris combined for 27 points.
Jokic (26.4 ppg 10.8 rpg) has scored at least 34 points in both games of this series and the Nuggets will be hard to beat if he scores big again and shoots 75% from the floor like he did in Game 2.
Michael Porter Jr. (19 ppg 7.3 rpg) has totaled 43 points in the series but even in the win in Game 2 he only shot 38.5% from the floor.
In Game 2 Portland's Damian Lillard tied a playoff record with eight 3-pointers in the first half but then Aaron Gordon switched to defend him and he only hit one more long ball. If Gordan plays solid D on Lillard in Game 3 the Nuggets have a killer chance to win and lead the series.
Denver is the underdog in this road game and they are 10-4-1 ATS in their last 15 games as an underdog.
Dame Could Use Some Help
In the Game 2 loss Damian Lillard went for a game high 42 points and was on fire from 3-pt land before Gordan defended him well in the second half. CJ McCullum had 21 points in the loss and Norman Powell was the only other player for Portland to score in double figures with 15 points.
While nine bench players saw action for the Blazers in Game 2 none scored over five points. Carmelo Anthony only had five points on 1/5 shooting and he was huge in Game 1 going for 18 points.
Lillard (28.8 ppg) will get his points but he needs other players to step up. One of those players is C Jusuf Nurkic (11.5 ppg 9 rpg), who scored 16 points on 70% shooting in Game 1 and then only had seven points on 25% shooting in Game 2.
In a couple of interesting betting trends the Blazers are only 7-23-1 ATS in their last 31 games as a playoff favorite and 2-6 ATS in their last eight games as a home playoff favorite.
Prediction
The Nuggets put it all together in Game 2 with a solid all-around performance. I look for them to do that again in this game and for Gordon to match up against Lillard. Denver has the momentum after the Game 2 win, and they will ride that in this game. While the first two games of this series were not very close I see a close one in this one in the Great Northwest, which is why I am taking the Nuggets and the Points.
 PICK: Nuggets +4