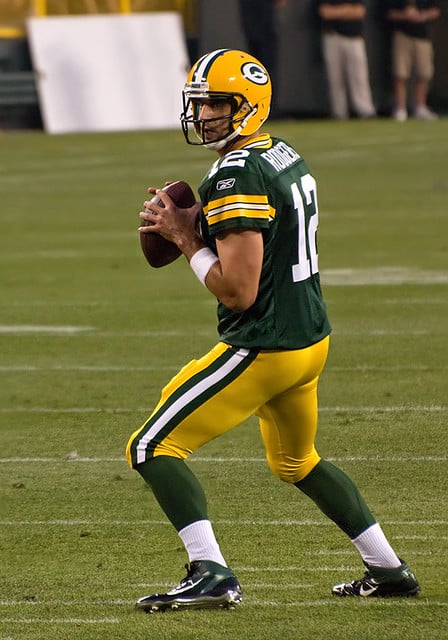 The Chicago Bears are favored by -3.5 over the Green Bay Packers when the 2019-2020 NFL season kicks off on Thursday September 5, 2019. The current posted total is 46.
This preview and pick is being posted in June. It will be interesting to see where these lines go, based on what happens over the summer and in the preseason. The early betting action thus far has been in favor of the underdog Packers.
This game between two NFC North division rivals holds plenty of intrigue. Inquiring minds want answers to two questions. One, will the Bears be a solid team, as they were a year ago? Two, will the Packers improve after two consecutive losing seasons?
The Case for the Bears
The Bears were a legit contender last season. They finished the season 12-4 which included a 7-1 record at home. They had the stingiest defense in the league and finished the year +12 in turnover differential (3rd in the NFL).
The Bears were a kick off the goal post away from advancing to the next round in the playoffs last season. Speculation heading into the playoffs last year was that the Bears may have been too far ahead of schedule. A little too green.
They lost defensive coordinator Vic Fangio who became the Broncos head coach. But his replacement, former Colts coach Chuck Pagano, is more than capable to pick up where Fangio left off.
The Case for the Packers
The off season saw some big drama in Green Bay. We all got a glimpse into the  relationship QB Aaron Rodgers and former coach Mike McCarthy had. Yikes! Say what you will, but from where I sit, Rodgers comes off looking like a big time prima donna.
The Packers haven't been good for two consecutive years. Injuries, including to Rodgers, didn't help. But that Packers defense left little to be desired.
But a brand new coaching staff and some aggressive off season moves have been aimed at making the Packers ready to win now. In other words, this is no gradual rebuilding process.
Head to Head Last 4 Years
12/16/2018 Green Bay 17 + 5.0 at Chicago 24
9/ 9/2018 Chicago 23 + 7.0 at Green Bay 24
11/12/2017 Green Bay 23 + 5.0 at Chicago 16
9/28/2017 Chicago 14 + 7.0 at Green Bay 35
12/18/2016 Green Bay 30 – 4.5 at Chicago 27
10/20/2016 Chicago 10 + 7.5 at Green Bay 26
11/26/2015 Chicago 17 + 8.5 at Green Bay 13
9/13/2015 Green Bay 31 – 7.0 at Chicago 23
Our Pick with Score Prediction
If this game were played in January of 2019, we would have the Bears winning by 13 to 16 points. In fact, our score prediction model using the last 7 games of last season for each team predicts a 27-11 Bears win.
The questions we need to answer as handicappers are, have the Packers done enough in the off season? Have they made the right moves? Is the Rodgers drama behind them? Can new coach Matt LaFleur (and staff) gain the respect of Rodgers and company?
Lastly, did the Bears peek too early? Was last year a fluke? Are they likely to take a step back before moving forward?
This game certainly has the makings of a statement game for the Packers. A chance to send a message to the rest of the NFL that they are back by knocking off one of the top teams  from 2018-2019.
But we think talent wins out here. The Bears were no joke a year ago. Nothing has happened in the off season as of this early June writing to indicate the Bears won't contend once again. This is a tall order for a Packers team with so many new faces on and off the field. Bears -3.5