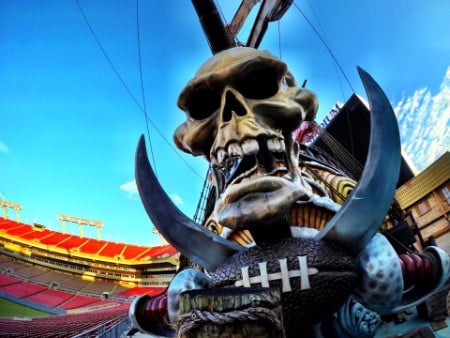 Tampa Bay Buccaneers (0-0 0-0 ATS) at New Orleans Saints (0-0 0-0 ATS)
In the most anticipated Week 1 game Drew Brees and the New Orleans Saints host the Tampa Bay Buccaneers and some new guy under center named Tom Brady. The Saints are a 3.5-point favorite in their house with a total sitting at 49.
The Saints opened as a 5.5-point favorite, but the line has dropped to -3.5 with the public backing Brady and the Bucs.
It will be very strange to see Brady in a Tampa Bay uniform and the team has made other big moves as well to go all-in on a deep playoff run.
The Saints are the defending NFC South champion and Brees is the 41-year old "youngster" under center in this game.
Last season the Saints beat the Bucs in both matchups.
Tampa Bay was 5-9-2 ATS las season with an O/U record of 12-4 and the Saints were 11-6 ATS with an O/U record of 9-8.
The Saints have covered the spread in five of their last seven games facing the Bucs.
He's In the Sunshine State
Brady brings his six rings to Tampa Bay and he comes into a loaded offense. The WR duo of Chris Godwin and Mike Evans each had at least 1,150 receiving yards last season and combined for 17 TD. The team also brought in Brady's old pal in Rob Gronkowski and he will lineup up with fellow TE O.J. Howard, who had 459 receiving yards last season.
The Bucs have Ronald Jones II, who led the team with 724 rushing yards last season, signed veteran LeSean McCoy, and just recently signed Leonard Fournette, who comes with some baggage but rushed for 1,152 yards last season.
Brady has the goods at his disposal and even with all of his hardware, there is a lot of pressure on the GOAT.
Tampa's defense is led by Shaquil Barrett, who led the NFL in sacks last season and the team resigned Jason Pierre-Paul and Ndamukong Suh. The run D was great last season but the pass D ranked fourth to last in the league and has some issues heading into this season.
Swan Song for Hall of Famer?
There are rumblings that this will be Brees' last season. He missed five games last season with a thumb injury but still nearly passed for 3,000 yards. It helps that he has Michael Thomas, who led the league in receiving yards last season, and the team signed veteran WR Emmanuel Sanders. TE Jared Cook is also back and had 705 receiving yards last season.
Leading up to the season the Saints are working on getting star RB Alvin Kamara big deal and he is worth it. He rushed for nearly 800 yards averaging 4.7 yards per carry and also had 533 receiving yards.
Last season the Saints' defense ranked 11th in the league. While that unit lost three starters Cameron Jordan (15.5 sacks) and Demario Davis (111 tackles) return.
Our Prediction
The Bucs are 7-3-1 ATS in their last 11 road games while the Saints have failed to cover the spread in four of their last five home games.
I am jumping on the Brady and new Bucs' bandwagon, as I think he will light it up this season. That will start with a good game in the Super Dome and he will outduel Brees.
Not only will Tampa Bay cover the spread but they will win as well, so the moneyline on this NFC South battle may be a good call. I also think a good call is the Over pick, as both secondaries have issues and the two future Canton QB's will play well.
PICK: Bucs +3.5