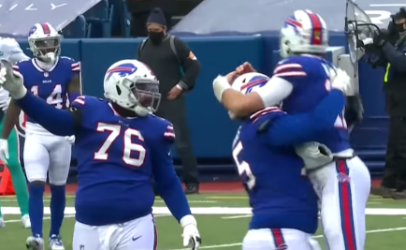 Indianapolis Colts vs. Buffalo Bills – Wild Card Playoff Round Betting Analysis
Indianapolis Colts (11-5 8-8 ATS) at Buffalo Bills (13-3 11-5 ATS)
 In the first Wild Card playoff game, the red-hot Buffalo Bills host the Indianapolis Colts. The Bills are a 7-point home betting favorite with the total sitting at 52.
The public has slightly backed the Bills, so far, as they opened as a 6.5-point favorite and as of Tuesday are a 7-point favorite.
The Colts will try to cool down a hot Bills' team that has won six games in a row. Not only has Buffalo won six straight but they won all of those games by double-digits.
Buffalo's Josh Allen has emerged as a legit MVP candidate and he leads a team that ranks second in the league in scoring and a team that has scored at least 48 points in two of their last three games.
The Colts have won four of their last five games and have the Bills to thank for helping get into the playoffs with their season finale win over the Dolphins.
The Colts are balanced ranking 11th in the league in passing and rushing yards per game and they have a good defense, which you can be sure will be tested in this game.
These teams have not met since the 2018 season.
The home team has covered the spread in the last five games between these teams.
Taylor Goes Big
In the Colts' season finale they beat the Jacksonville Jaguars 28-14 behind rookie RB Jonathan Taylor, who rushed for a franchise-record 253 yards.
Phillip Rivers leads the Colts and had a good season passing for 4.169 yards with 24 TD and 11 INT. He had a TD and an INT in each of the last two games and T.Y. Hilton led five players for Indy that had at least 394 receiving yards with 762 yards and five TD,
Taylor led the Colts with 1,169 rushing yards averaging five yards per carry and rushed for at least 74 yards in each of the last six games.
Taylor will be vital in this game, as he needs to run the ball well to help keep Allen and the dynamic Buffalo offense on the sidelines.
The Bills' run defense was decent this season giving up an average of 119.6 rushing yards per game and in their last game only gave up 70 yards.
Allen Has Been the Man
Allen had a stellar season passing for 4.544 yards with a TD to INT ratio of 37:10. He passed for 9 TD and only one pick in his last four games and plays behind a line that has played great this season and only allowed four sacks over the last five games.
Stefon Diggs leads a solid WR corps and he led the league this season with 1,535 yards with 8 TD. He had 76 yards in the last game of the season, which was a 56-26 blowout win over the Dolphins after having at least 130 yards in his previous three games.
Devin Singletary (687 yards 2 TD 4.4 yards per carry) only rushed for seven yards on three carries in the win over Miami and has failed to rush for over 346 yards in three of his last four games.
This game does not match up well for the Colts on defense, as their strength on that side of the ball is defending the run. They gave up an average of 241.6 passing yards per game.
It is key that DeForest Buckner (9.5 sacks) and Denico Autry (7.5 sacks) pressure Allen in the pocket, but that is easier said than done against a strong Buffalo offensive line and a nimble Allen, who ranked third on the Bills with 421 rushing yards.
Prediction
The Colts had covered the spread in four straight road games before failing to do so in their last one, which was their second to last game of the season. The Bills have not only won six straight games but have covered in eight straight games.
The Colts may put up a fight for a while but their defense will not be able to stop Allen and the offense will not be able to keep up. Buffalo is red-hot and playing with a ton of confidence and at home, they will win and cover.
PICK: Bills -6.5