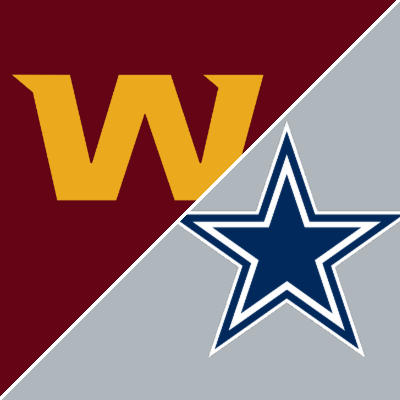 In the Sunday night primetime game, the Dallas Cowboys face the Washington Football Team for the second time in three weeks.
The Cowboys are a big 10.5-point home favorite in this NFC East clash with the total sitting at 47. Even with a double-digit spread the public has backed America's Team, as they opened as a 10-point favorite and as of Thursday are a 10.5-point favorite.
After Week 15 the Football Team are 6-8 and 5-8-1 ATS and the Cowboys are 10-4 and 11-3 ATS.
Washington lost their second in a row in their last game in a 27-17 road loss to the Philadelphia Eagles. They put up a fight even though the team was depleted by COVID-19 and injuries and they played with a QB they signed a few days previous.
The Cowboys won their third in a row in their last game where they were on the road and beat the New York Giants 21-6. Dallas was not great on offense but their defense forced four turnovers including three interceptions.
A couple of weeks back in the Nation's Capital the Cowboys beat the Football Team 27-20. Washington is 10-4 ATS in their last 14 road games facing Dallas.
A Little Hope
While Washington is still shorthanded, they will get starting QB Taylor Heinicke and backup Kyle Allen back, as both cleared COVID-19 protocols.
Heinicke has been decent on the season but needs to play better than the last game he played against the Cowboys where he was only 11-25 for 122 yards with a TD and an INT and was sacked four times.
Lead WR Terry McLaurin (859 yards 5 TD) is healthy and had 51 yards in the last game but no yards on three targets in the recent loss to Dallas.
Lead RB Antonio Gibson (862 yards 6 TD) is listed as questionable with an injury. He will be needed in this game but has struggled in the last two games and in the last one only rushed for 26 yards on 15 carries.
Heinicke and company will be facing a Dallas defense that ranks 15th in the NFL against the run and 23rd against the pass.
Dak Can't Let Up
Dak Prescott has been up and down as of late and was pretty down in the recent win over Washington. Dallas, pretty much, had the game in hand but mistakes by Prescott, including a pick-6, gave Washington a chance to win.
Prescott has quite a few targets like CeeDee Lamb and Amari Cooper but needs to avoid the bad mistakes and the team needs to run the ball. He has been sacked seven times in the last two games and even with a depleted front line you can be sure Washington will come after the QB, who only ranks 19th in the league in QBR.
Lead RB Ezekiel Elliot (862 yards 9 TD) has not rushed for over 52 yards in the last eight games and in the last three has failed to average over 3.8 yards per carry. Tony Pollard (676 yards 2 TD) has rushed for at least 71 yards in each of the last two games, is averaging 5.7 yards per carry, and while listed as questionable with a foot injury he should play.
Washington's defense has played much better in the second half of the season and overall, they only rank 30th against the pass bit a solid eighth against the run.
The Prediction 
While the Cowboys have covered the spread in their last four games facing a team with a losing record that trend will not continue.
Washington is still depleted but Heinicke is back for the team that must win or are out of the playoffs. I do not see them winning but I see them putting up a fight while the Dallas offense will make some mistakes. The Football Team will play well against the run and on offense look for Heinicke to have a good game. I am a Washington fan and while I do not see a win in the cards in the Big D they will not get blown out and will cover the double-digit spread.
PICK: Washington +10.5