BetAnySports operated for many years in the shadow of industry giant 5 Dimes. They shared office space, used the EXACT same software and payout platform and were essentially, a 5 Dimes clone.
In 2020, 5 Dimes left the marketplace leaving a huge void, but only for a short time. That's because BetAnySports stepped right in to fill that void.
For a time, they continued to use the same software, so past 5 dimes customers experienced no change whatsoever in their online betting experience.
Since then, BetAnySports has upgraded their online software and interface while at the same time keeping all of the great bet offers, promotions and bonuses in place.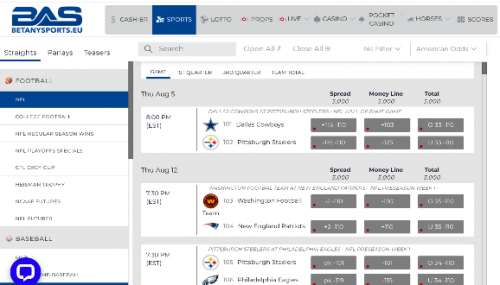 BetAnysports offers many great sign up bonuses to go along with their lightening fast payout options. That's standard for ANY sportsbook that appears on the pages of Bettorsworld.
With that in mind, we're going to gear this write up towards one bonus that separates them from the others and that's reduced juice wagering.
There is no better bonus than reduced juice wagering. Any player serious about winning would be a fool not to take advantage of reduced juice bet offers.
The industry standard for juice requires a player to normally risk $110 for every $100 they would want to win on a wager. With Betanysports Less Juice a player risks less and wins more. Betanysports has the widest variety of Less Juice options saving you money every time you bet. Betanysports players can bet less juice on NFL, NCAA football, Canadian Football, NBA, NCAA basketball, WNBA, MLB, NHL, grand slam tennis, PGA golf, boxing, MMA, and special events.
Betanysports Less Juice offerings on football and basketball include 10-cent moneylines, 10-cent sides and 10-cent totals (-105 pricing). When wagering at -105 odds you are wagering $105 to win $100. This equals a discount of 50% when compared to standard -110 odds.
Betanysports has made the MLB 5-cent overnight money line famous. These lines are available overnight until 8:00am ET. Our 10-cent run lines and 10-cent totals on MLB will be available overnight and through game day right up to the first pitch of every regular season game.