Wager.DM Sportsbook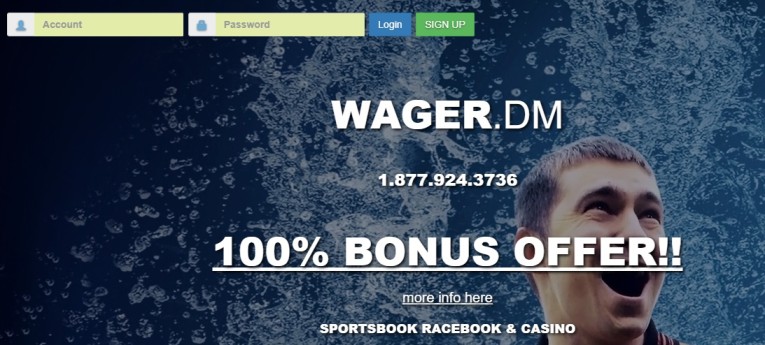 One sportsbook we are most often asked about, yet doesn't appear on our site, or for that matter, many others, is Wager.dm. Wagerdm is also know by it's formal name of World Wide Wagering, or, WWW for short.
You might say that wagerdm is the most well known unknown sportsbook. So much so that when we receive questions about them, we have to stop and think for a minute. I guess you could say out of site, out of mind!
In reality, it wasn't all that long ago that wagerdm was listed on bettorsworld. Well, within the last decade anyways.
We'd Like WagerDM Feedback from You!
In fact, I personally played at wagerdm on a daily basis. But a quick check of my records indicates that was in 2011. Time flies.
The purpose of this article is to solicit feedback from our readers about wager.dm. Have you played there recently? Within the last year? How was your experience? Did they pay fast? Did you wager online or over the phone?
View Our Top Rated Sportsbooks Here
You can find our contact email by looking at the very bottom, in the footer of this page. We greatly appreciate any feedback you can offer.
In the meantime, we found our old review of wagerdm and will include that review below.
A Look Back at Wager.dm (circa 2005 ish?)
What makes wagerdm, also known as world wide wagering, one of the industry's leaders?
* Quick, easy reliable payments
* Open early, and close late
* Small (as little as $5) to large wagering limits (negotiable).
* No Start-up fees, plus liberal fee reimbursements
* Worldwide was the FIRST fully computerized sportsbook
*100% computerized which means
accurate input, quick approval and fast payouts
* Highly experienced, courteous, and polite operators
* Complete confidentiality
* 30 years of sports booking experience
Wager.DM Moved to Costa Rica in 2006
World Wide Wagering (www.wager.dm) is licensed, bonded and approved by the Government of Dominica, West Indies (note – they moved to costa rica in 2006). Their clients make bets on sporting events through their  toll-free 800 numbers or online with their Online Sportsbook with the confidence in knowing that all transactions are both safe and legal!
Wagerdm's offices are located on the beautiful Eastern Caribbean island of Dominica, which is not to be confused with the Dominican Republic, our neighbors to the north.
The Island is located between the French islands of Martinique and Guadeloupe, about an hour's flight to Antigua to the north. Dominica is about 30 miles long, it has mountains rising to almost 5,000 feet, and is famous for its Boiling Lake, one of the largest of its kind in the world.
Dominica is known as The Nature Island of the Caribbean because of its lush rainforest. It is also gaining a reputation as one of the best dive sites in the region.
Here at Bettorsworld, we make it a point to play in all the sportsbooks that appear on our site. We have played with World Wide Wagering for many years without a hitch.
Our account is active and used frequently, particularly during the basketball season and we'll continue to play with wagerdm for many years to come. Give them a try!