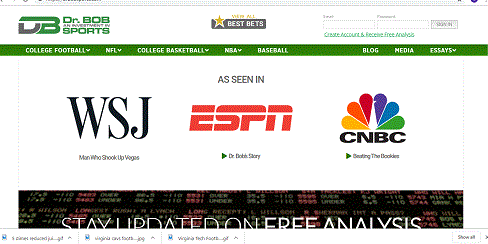 Dr Bob sports was making headlines and moving football lines over a decade ago. Here we'll take a look at Dr. Bob sports both then and now.
Our original Dr Bob article ran many years ago. At that time, Dr Bob was just beginning to make a name for himself as a handicapper that used advanced math models in conjunction with technical analysis and fundamental indicators.
Dr Bob's approach did in fact have an edge over the oddsmakers. He was consistently winning and word spread. His client list grew dramatically as bettors of all shapes and sizes were playing is plays.
I can tell you that there were large professional bettors that were getting Dr Bobs plays and and hammering those games the second they were released.
It wasn't just football either. Dr Bob had similar success with college hoops. So much so that Bob had to implement a count down clock and a method to distribute his plays that was fair to all subscribers.
We've Seen This Phenomena Many Times
This phenomena wasn't something new to sports betting. We have seen this many times over the years. Docs Sports moved lines all over the country back in the 70's and 80's with their Big 10 Game of the year.
Ralph Michaels of California Sports had a run in the 90's in college hoops and then more recently we have see Right Angle Sports follow suit.
In all cases, the wild winning streaks come to an end. Sports Books make adjustments and anticipate these plays.
When I say the streaks come to an end, I'm not saying the handicappers turn into losers. They simply come back down to earth and if they are legit, their winning percentages become more realistic.
Dr Bob is Still Legit in Field of Few
On Dr Bobs site now he's hyping a 58% winning percentage for the NFL. That's over the last 2 years. All handicappers promote recent success, and they should. But don't sign up expecting to hit 58%. You won't. At least not long term.
I can tell you that Dr Bob is one of the good guys in an industry filled with snakes. What you will get from Bob is quality selections based on strong criteria that will give you an opportunity to win when combined with line shopping and money management.
A long term winning percentage of somewhere around 54% or 55% is certainly attainable by a handicapper like Dr Bob and for the record, we are not affiliated with him in any way.
Listed below is the original article which if I'm not mistaken was written in 2006 or 2007. It was penned by pinnacle sports who at the time was the leading US facing bookmaker offshore.
Pinnacle provided bettorsworld with fantastic articles back then. They are still around but no longer cater to the US market.
Original Article from Over a Decade Ago
An alarming pattern has started this year in college football. Every Thursday afternoon (around 1 p.m. EST), there's been a flurry of action on a limited number of Games.
The enormous amounts of money pouring in during this "witching hour" are causing massive line movements – in some cases, we're seeing a 4-point move in less than 10 minutes.
Some say this is the handiwork of handicapper Dr. Bob. Others blame it on syndicate action from Taiwan, China or Israel. Regardless of the source, these line movements are bad news for sportsbooks.
When we take one-sided bets on a football game at Pinnacle Sportsbetting, we adjust the moneyline price to encourage or discourage action. The price is like a control-valve on a dam, controlling how fast the money flows on a given game.
If the market price on a game is "Ohio State -14 (-110)", we have two ways to slow down bets on the Buckeyes. We can offer Ohio State at -14 (-111), which is what we call a "stopper" – no one wants to pay this price if a better one is easy to find.
We can also adjust the spread off the market price to -14.5 (-105), but the danger whenever you adjust a spread is that you risk getting sided or middled. Under normal situations, either of these techniques will help control our position.
Books Slammed in Matter of Minutes
The problem with these Thursday morning steam plays arises from how fast a book can get slammed with bets. Price adjustments and even minor spread adjustments do not slow these bettors.
If a sportsbook takes many limit bets in a 20-second window, it's stuck with a very bad position after a 4-point line movement. Each time this happens, an oddsmaker might expect to lose $0.15 for every dollar bet in that time frame (from middles and the cost of offering a good price on the other side).
A high-volume shop like Pinnacle Sportsbook can trade its way out of a bad position, but lower volume books can be decimated by this.
Steam Plays Win Long Term
Most steam plays tend to be long-term winning plays (as long as you get the pre-move price), and these Thursday plays are no exception. Many players are starting to watch for steam plays Thursday morning, and blindly bet them at slower-moving sportsbooks. This "echo" makes the initial surge even more terrifying for some line managers.
Regular players can make money off these line moves by simply watching the odds screen Thursday mornings. When you see the lines begin to move, bet at smaller books – especially those that offer first-half lines.
These types of derivative lines often move slower than game lines. This gives patient players the option to middle the first half once the lines stabilize.
If you manage to play a side before a steam-move of at least two points, you can usually scalp the new number at Pinnacle Sports Betting using point-selling and Our 10-cent line on college football which offers up to 50% better value than other sports books.