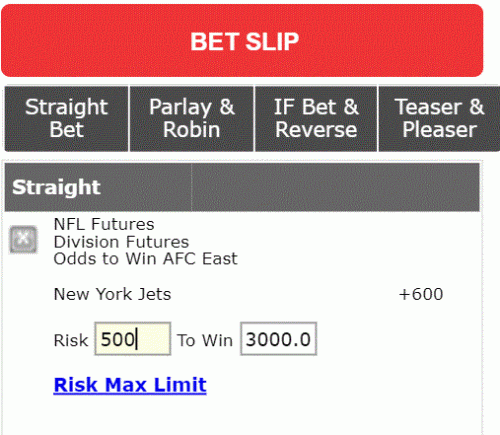 Betting NFL futures can be both very profitable and loads of fun but in order to be successful with futures, you need a strategy. Here we will take a look at one strategy you can use specifically for NFL futures for divisional winners and conference winners.
You hear stories every NFL season about some guy who is holding a futures ticket on a team with a potential huge payoff. More times than not, these futures bets are made by fans of the team they bet on. In other words, these guys would make that bet regardless of the price. No strategy involved what so ever.
There's a saying in sports betting that states "you need a number to beat a number". We'll show you how to to get a number, in this case, the likely number of wins for a team.
As you will see, this method may be stronger once teams have played a few games. That's ok, because sportsbooks update their futures odds every single week of the NFL season. You'll be surprised at the value you will find when using this strategy.
Simple NFL Futures Strategy Step 1
Your first step is to determine how many games a team is likely to win over the course of the season. Now you can see why it's a bit easier to employ this after 5 or 6 games have been played.
Of course, you can just wing it and go through a teams schedule and mark down games you think they will win or lose. But we advise using a good set of power ratings to accomplish this.
There are tons of sites offering power ratings. The sagarin ratings are one of the most well known.
One of our favorite power ratings sites is Sonny Moores Power Ratings. It's a simple power rating and serves our purposes just fine for this strategy.
Armed with these ratings, you now go through a teams schedule and assign a point spread to every future game on their schedule for the rest of the season.
Step 2 – Assign Probability of Winning to Each Game
Once you have a spread for each game, compare it to the chart below and assign the chances of winning (percentage) to each game on their remaining schedule.
0      50.00%
0.5   50.00%
1      51.30%
1.5   52.50%
2      53.50%
2.5   54.50%
3      59.40%
3.5   64.30%
4      65.80%
4.5   67.30%
5      68.10%
5.5   69.00%
6      70.70%
6.5   72.40%
7      75.20%
7.5   78.10%
8      79.10%
8.5   80.20%
9      80.70%
9.5   81.10%
10    83.60%
10.5 86.00%
11    87.10%
11.5 88.20%
12    88.50%
12.5 88.70%
13    89.30%
13.5 90.00%
14    92.40%
Do this with every NFL team. This will then give you a good idea of how many games each NFL team is likely to win the rest of the way.
With this knowledge, you can now look at the NFL futures prices that all sportsbooks offer for teams to win their division, ie. AFC East, or to win the AFC or NFC.
Sportsbooks leave their futures prices open until the weeks games kickoff and then open them up again usually after the Monday night game.
You want to have several sportsbooks lines available to you. In this day and age, there's no need to post up money at tons of books. That's where using bitcoin really comes in handy.
Since most sportsbooks accept bitcoin payments, you can shop for the best odds at literally any sportsbook. Once you find a nice price, you can send just enough to cover that bet.
Step 3 – Dig for NFL Futures Gold
Simply compare your projected wins for each team to the futures odds offered. What you're looking for is, for example, two teams with similar odds to win the division, perhaps co-favorites, yet your projections tell you that one of those teams is likely to win more games, hence, win the division.
Even better is if you find a team with longer odds to win the division yet your projections tell you they'll likely win more games than the team priced ahead of them!
Do this each week. Check the prices on Friday or Saturday and then again on Tuesday when they are posted again.
You will likely be surprised at the opportunities you will find. Many sportsbooks clientele is square. Futures betting tends to attract more novices than pros. Of course, it depends on the sportsbook.
You'll find some sportsbooks futures lines seem off and this is often due to their clientele. That means more value for you, the bettor who has put some time in!
One other simple method you can use for all futures betting is to simply compare some sharp sportsbooks lines to everyone else. Have a look at 5 dimes and Pinnacle Sports for example. Chances are, they'll be close to what the line should be.
Use Yards Per Play to set your own NFL Line