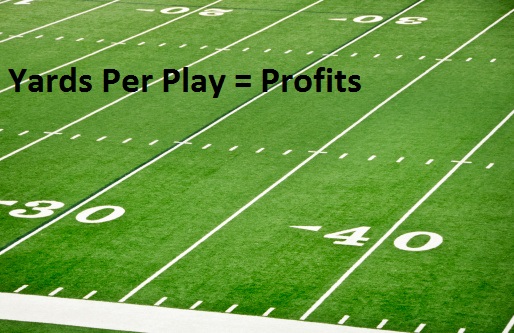 Sharp handicappers have been using yards per play as an NFL handicapping tool for years. Here we will show you how to make your own line for NFL games using yards per play.
Long time Bettorsworld readers see us frequently refer to yards per point when we analyze an NFL game in an article. Yards per play is a very similar stat to yards per point.
Both methods enable an NFL handicapper to get a quick snapshot of any particular team or the league as a whole.
Good Teams Gain More Yards Than They Allow
Teams that gain more yards than they allow are more likely to win. Or simply, teams that gain a bunch of yards and give up very few, are probably very good.
Likewise, the opposite would also be true. Teams that give up tons of yards and have trouble gaining yards on offense, usually aren't very good. Common sense, right?
First, you'll need to gather the NFL yards per play stats. There are a variety of sites that present this data. Pro Football Reference is one.
Copy the offensive and defensive yards per play into an Excel spreadsheet sorted for each team's individual stats. Then simply subtract the defensive yards per play from the offensive yards per play.
If the "A" column is the team, and "B and C" are offensive and defensive yardages respectively, use the formula "=b1-c1" in column D.
This will give a "yardage differential" for each team, which if positive, indicates a team that gains more yardage on offense than it surrenders.
You could even use a notebook with a pencil if you're really old school, though I can't imagine there are too many of those guys left.
Use Yardage Differential To Make a Line
There's a "quick and dirty" rule for setting a spread using NFL yardage differential. Each 0.15 yards per play is worth 1 point. As an example, let's examine a game between Green Bay at Philadelphia.
The Eagles are gaining 6.7 yards per play, while allowing 5.0 yards per play. A differential of +1.7. The Packers are gaining 5.4 Y/P, while allowing 5.9 Y/P, for a net differential of -0.5. The Eagles' net differential is 2.2 better. Dividing by 0.15 suggests the Eagles should be about a 14.5 point favorite on a neutral field.
As with all tools for evaluating teams, this calculation is best used in conjunction with other handicapping methods and using common sense. Many statistical methods become far more viable after 4-6 games. However, even early in the season, these types of statistical methods can be a good way to look for new winning angles like identifying under-priced big favorites.
Now this article focuses on using yards per play to handicap the NFL. However, you can also use the stats for college football.
With the NFL, there is very little difference in teams schedule strength. In college football, the gaps are huge. A team from a weak conference with a weak schedule strength may have decent numbers.
In order to use yards per play for college football, some adjustments need to be made to account for schedule strength. We'll save that for another day. But the stat is still worth looking at for the college game as just like with the NFL, it give you a quick snapshot of a teams overall performance.