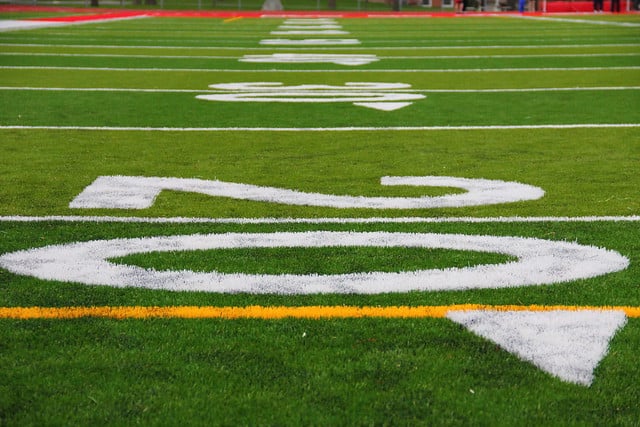 Yards Per Point is one of the the single most powerful stats in handicapping college football and NFL football. It's a stat that at a glance, can tell you a whole lot about any given team. It's a stat that should be used by professional sports bettors and recreational sportsbettors alike.
What makes this stat attractive to the recreational sports handicapper is that it allows a guy or gal who works a full week, and has a life outside of sports, to make educated selections on football games with only a minimal amount of work.
The yards per point stat simply shows you how far a team must travel to score 1 point. It also tells you how many yards it takes to score 1 point on their defense.
Be sure to check out our free college football picks weekly
So, a team with a yards per point number of 13.8 on offense, scores 1 point every 13.8 yards they gain.
The stat is very easy to compute. Simply take a teams offensive yards gained and divide by points scored. On defense, take the yards given up and divide by points given up. Many publications, tip sheets, etc, do the work for you. Power Sweep is one such publication.
So now you have two numbers for each team. An offensive number and a defensive number. The lower the offensive number, the better the offense. The higher the defensive number, the better the defense.
You can now take these numbers and use them as a power rating.
Let's take a look at an actual game from the past. Buffalo was playing at  New England.
Buffalo's offensive number was 14.1 and their defensive number is 12. Just from looking at those numbers for Buffalo, we can quickly see that they have an average offense and a horrendous defense.
We subtract the offensive number from the defensive number and get -2.1 which would be Buffalo's rating.
The Pats numbers were 13.5 on offense and 15.4 on def. making their rating +1.9. So, the difference between the two is 4 in favor of the Pats. We add 2.5 points for home field and have a Yards Per Point line on this Game if New England -6.5
Look for significant difference between the YPP line and the sportsbooks line.
Generally speaking, an offensive number below 13 is a very good offense. A good defense would generally be a number of 16 or higher.
Now there's all sorts of variations of this. You can break this down and figure out YPP for home and away. You can ferret out common opponents and look at a teams YPP against the same teams. The stat really requires at least 4 Games to be effective. You can also keep a running tally of this stat only going back 4 or 5 Games, which will give you a clearer picture of how a team is doing lately.
You'll notice more often than not, the line you set using yards per point will be very close to the actual line. Look for differences in order to spot potential plays.
Use Yards Per Point for Totals Too
You can use the stat to predict how a game might play out as well. For example if one team has a ypp on offense of 12 and a number of 12.5 on defense and their opponent has similar numbers, you can expect lots of points as both teams can move the ball but neither has much of a "D".
If one team has an offensive ypp number of 16.5 (bad) and they are going up against a strong defense with a ypp of 18, you can assume the team  with the 16.5 isn't going to score many points.
This can also be used for college football but you need to be careful. The stat can become distorted as a result of the blow outs so common in college ball. There is also a huge difference in the schedule strength in college football, whereas in the NFL it's minimal.
A few minutes work each week and you can take a lot of the guesswork out of your selections. This method, used as a power rating, in conjunction with other stats such as turnovers, trends, weather and injuries have produced very positive results for many football handicappers over years.
A very similar stat you can use to handicap NFL and college football games is yards per play.
Use both together and you're on your way to becoming a tough customer for your sportsbook!