LIVE ODDS – SPORTS LINES FEED
We get tons of email each week from sports bettors inquiring about the Don Best Live Odds Feed. Will Don Best help you? Is Donbest for everyone? What are the advantages of live odds and information? How much does it cost?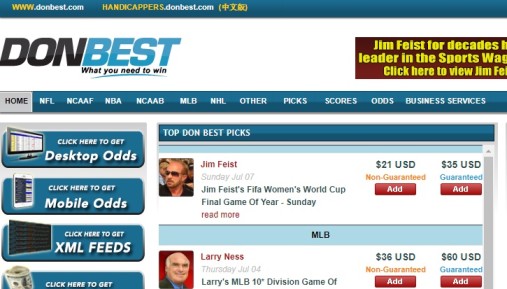 We'll get to Don Best in a sec, but if you're interested in a live odds feed you must also be interested in quality handicapping. The Bettorsworld Key Releases are by far the best value anywhere. Quality selections from a professional bettor and they are currently available to you FREE of charge!
Back to Don Best Live Odds. Here at Bettorsworld, Don Best is Our preferred live odds feed provider. They created one of the very first live odds feeds ever, and while the saying, "first isn't necessarily best" applies to some things, it definitely does not apply here.
Don Best offers a premium live odds service as well as xml feeds to fit your needs.. If you're serious about winning you simply cannot be without it. Instant injury updates faster than any other service, public betting percentages and more.

To recap – here are several reasons why Don Best is the Live Odds Feed of choice here at Bettorsworld.
1. Live odds from the top sportsbooks: Never lay a bad number again. The pros all agree that getting the best odds on all of your plays is the fastest way to improve your bottom line.
2. Fastest breaking injury updates: Never make another play without having all of the information. Don Best gets you all of the breaking injuries before the public gets them.
3. Fast and accurate Score updates: Whether you're analyzing halftime plays or grading finals,
4. Public betting percentages: Know which way the public is betting on both sides and totals.
5. Easy to use program: With decades of experience and user feedback, the Don Best development team has built a program that is both powerful and easy to use.
6. Fully customizable: With dozens of customization features, you can setup your feed to look and operate just the way you need it.
7. Friendly customer service: The customer service team has the knowledge and experience to help you with all your needs.
8. Decades of experience: Team members have decades of combined experience in all areas, so you can operate with confidence.
9. Endorsed by the top pros: Here at Bettorsworld, we deal with several professional sports bettors. Real pro's. They all rave about Don Best feed and agree they couldn't operate without it.