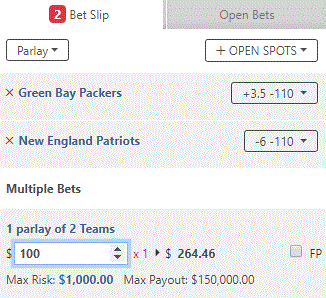 Payouts on a 2 team parlay are standard throughout the industry at 13/5. Sportsbooks will pay $2.64 for every $1.00 wagered.
It's very important however, for parlay bettors to understand that not all 2 team parlays are created equal. Your payouts will depend on the money line attached to your wager.
Payouts at 13/5 are for wagers that are -110, the typical price on straight bets for football and basketball.
If the price listed on your team is different than -110, your payouts should then change as well. For example, if you parlay two football games and the price listed on both of your bets is -105, your payout should be 2.81 for every 1.00 wagered. Or 14/5. Anything less than that and your sportsbook is ripping you off.
It's no surprise that players ask about 2 team parlays more than any other. It's the most basic parlay that you can bet. Simply hook two teams together,  they both win and you're in business!
Parlays Explained
A parlay is one of the easiest bets to understand. It simply means to pick two or more teams in one bet. All of your selections must win, or push, or you lose your wager. If you pick three teams in your parlay and you go 2-1, you lose.
In the case of a tie, your wager reverts to the next lowest payout. For example, if you bet a 3 team parlay and two teams win and one is a push, your payout would be for a 2 team parlay winner. If you played a two team parlay and one team won and the other pushed, it would be paid out as a straight bet.
Be sure to check out our Free College Football Picks Weekly
Listed below are the standard payouts for parlays at most sportsbooks. These examples are using standard -110 juice. We'll list the payout based on a $100 wager and we'll list 2 teams thru 10 teams.
As you can see from these payouts, the attraction of parlays is the opportunity to make a big score from a small investment.
Parlay Payouts Based on $100 Wager
2 Team Parlay – $264
3 Team Parlay – $600
4 Team Parlay – $1228
5 Team Parlay – $2436
6 Team Parlay – $4741
7 Team Parlay – $9142
8 Team Parlay – $17545
9 Team Parlay – $33585
10 Team Parlay – $64208
Parlay Payouts Weren't Always Standard
We mentioned that parlay payouts were standard across the industry. Well,  it wasn't always like that. The early days of the offshore betting industry were like the wild wild west. Sportsbooks, often inexperienced, would do anything to attract business.
One popular sportsbook offered 7 to 1 on their 3 team parlays. They wanted to attract new players and boy did they ever.
Problem was, they attracted the wrong type of players. Sharp payers knew that a three team parlay at 7/1 odds was the same as a straight wager with no vig!
Making the right combination of 3 team parlays, the sharp player could turn those wagers into a straight bet on any team on the board at even money. That my friends, was a license to print money!