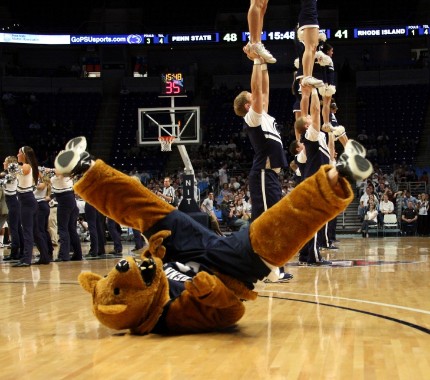 This game has revenge written all over it after Penn State went to East Lansing and won this matchup a month ago, 75-70. The difference this time is that Michigan State is playing better winning its last three, while Penn State has lost three of its last four.
When these teams met Feb. 4, it was a game of runs. The Spartans opened 12-2 before the Nittany Lions had an 11-1 and 15-2 run in the first half.
While MSU opened the second half with another 12-2 run, it wasn't enough as PSU dished a couple blows in the final couple minutes to win by five points. 
The difference in the game was that the Nittany Lions got help from other players not named Lamar Stevens, who led the way with 24 points. Myreon Jones hit six threes and Mike Watkins added 10 points along with solid defense in the post.
As for the Spartans, Cassius Winston did what he could en route to 25 points and nine assists, but no one else had more than nine points, Xavier Tillman included.
The reason MSU got revenge on Maryland over the weekend was that Winston got some help. In addition to Winston's 20 points, Tillman, Rocket Watts and Malik Hall combined for 43 points, and Aaron Henry added another nine.
Those may not be numbers to expect on a consistent basis, but they seem to have figured things out, at least more so than a month ago. In that first meeting with Penn State, Michigan State was still finding itself a bit.
Now, the Spartans are playing better overall as a team, as Watts has become a nice two-way player and Hall can provide a spark when needed. The question is if Tillman will again be swallowed up by the bigger Watkins in this matchup. Winston will get his points, but can Watts, Hall and Henry be counted on if Tillman can't get good looks? 
On the other end, Penn State probably can't expect another 20-point effort from Jones, who is recently back from illness and probably won't get as many open shots as that prior contest.
It wouldn't be surprising if Henry or Watts was glued onto Jones with the hope that he doesn't have one open look. The other likely matchup will be Tillman on Stevens. Tillman is regarded as one of the best big-man defenders in the conference and will likely see this as an opportunity to defend Stevens, who did what he wanted in that first meeting.
The Nittany Lions are at home, but they also haven't looked great in recent home games. While those came without Jones, there's no excuse for losing to Illinois or barely getting past Rutgers.
It also doesn't help that the Spartans just dominated Maryland in Maryland. MSU probably has the better team, but if Jones, Myles Dread or Izaiah Brockington can catch fire from deep, that would give the extra edge to the Nittany Lions, which was the case in the first game.
Our Pick – We have this game dead even, so willing to take any points available with the underdog.