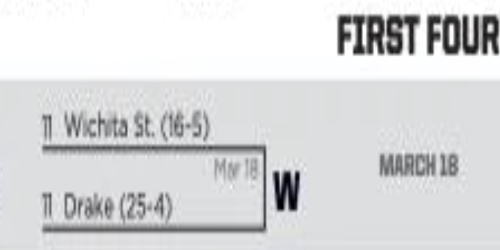 Unlike the other play-in game between 11-seeds (Michigan State and UCLA), Drake and Wichita State are a little more unknown. Wichita State has had some tournament success in recent history, but it has a new head coach and wasn't expected to make it this season.
Drake is even more obscure, but some bettors likely know them for covering almost every game for the first two months of the season. Unsurprisingly, the team from the bigger conference is a slight favorite.
The Shockers don't have a ton on their resume with just 21 games under their belt and a win against Houston is really the only relevant one. They lost to Missouri and OK State in close games earlier in the season and then fell to Cincinnati in the AAC tournament. 
Bulldogs Started 18-0
The Bulldogs played an even worse schedule in the Missouri Valley, but they started 18-0 and got one win from Loyola-Chicago and that was enough to get this spot. The big question is the status of Shanquan Hemphill, who missed the last month with a broken foot, but reportedly has a chance for this game.
Of course, while he's their leading scorer, it'll be hard to put much into a possible return since he's been out so long. While they beat Loyola-Chicago without him in one of three games, they also couldn't extend leads against any of their other MVC opponents.
That being the case, it's not like Wichita State carved through the AAC. For starters, it beat USF by one point in the tournament and then lost by one point to Cincinnati the next game.
Wichita Efficient 
They were one of the more efficient offensive teams in the conference, but that was mainly because they didn't turn it over and grabbed offensive boards, two things Drake led the MVC in.
These teams match up fairly well in most categories. They both have guys who can work in the paint, but neither of them have ones who will take over games, especially if Hemphill doesn't play.
The Shockers are a little more guard heavy, as Tyson Etienne averages 17 points per game, while no one else is above 10.3.
The shooting guard hits 40% of his threes and is helped by fellow guards Alterique Gilbert and Dexter Dennis, neither of them as consistent shooting. Morris Udeze is Wichita State's main big, averaging 9.8 points per game, while Trey Wade is hit-or-miss depending on the matchup.
Bulldogs More Balanced
The Bulldogs are a little more balanced as they have three guys averaging at least 10 points per game, not including Hemphill or Roman Penn. Since those guys went down, they've pretty much rolled with five guys and ran them into the ground.
In their most recent loss to Loyola-Chicago, three guys played 40 minutes and two others played 36. Joseph Yesufu and D.J. Wilkins are the main scorers from the perimeter, but when things are going well, Darnell Brodie and Tremell Murphy will work the boards and win in the paint. 
If Drake is to win, Brodie is the guy who needs to show up, as he's averaging 10 boards over the last four games. He's had some big performances this season and there's a chance he gets fed early against Udeze, mainly because he has a height and noticeable weight advantage. 
If Brodie can't win that matchup, Wichita State probably has the overall edge, mainly because Drake simply don't have any depth. This is a Drake team that hasn't been to the NCAA tournament since 2008, so nerves will be high and they'll likely come out gunning.
If they play a little quicker than usual because of nerves, it's possible that'll catch up to them, though the presence of Hemphill could change things and it's something you need to know before betting the game.
Here are the score predictions from our model:
Drake                    139.5          63   NEUTRAL 
Wichita State             -2.0          72

 using full season data


  
Drake                    139.5          61   NEUTRAL 
Wichita State             -2.0          63 

using data from last 4 games


  
Drake                    139.5          61   NEUTRAL 
Wichita State             -2.0          72 

using data from last 7 games