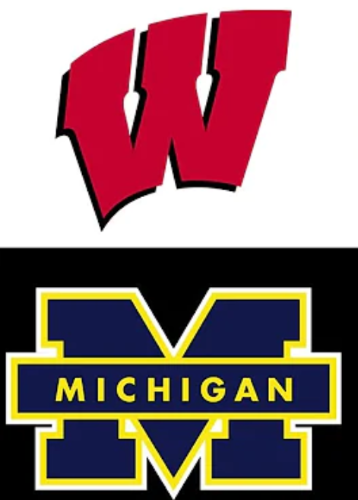 This may be one of the harder games to project this weekend, mainly because Michigan hasn't played since Jan. 22 due to a COVID-19 pause. While no one on the team tested positive, they weren't allowed to practice and only returned to the court earlier this week.
Even with that being the case, most people will look to the prior meeting between these teams when Michigan beat Wisconsin 77-54.
That win back on Jan. 12 was when people started taking Michigan seriously after a favorable early schedule. The Wolverines did whatever they wanted and went on a ridiculous 43-6 run that started at the end of the first half. While that may not happen again, it's still relevant because Michigan clearly matches up well between these teams. 
Big man Hunter Dickinson only had 12 points and six boards in that game, but he has a size advantage over everyone on Wisconsin. Dickinson, a freshman, is the final piece to the puzzle for the Wolverines, who rank top 10 in the country in both offensive and defensive efficiency.
Surrounding him is a group of shooters, who can also create for themselves. Franz Wagner may be the best two-way player in the conference, averaging 12 points, 7.1 boards, 3.1 assists, 1.4 steals and 1.2 blocks per game.
Isaiah Livers is shooting close to 45% from deep and he brings veteran leadership, while Mike Smith and Eli Brooks can both knock down shots and supply lock-down defense.
In addition to having trouble against Dickinson, Wisconsin doesn't exactly have the players to match up with Livers and Wagner at forward. Nate Reuvers and Micah Potter are both too small for center and often not quick enough to deal with faster forwards, which is why Tyler Wahl was moved into the starting lineup earlier this season. 
The goal for the Badgers will be to win the backcourt and go from there. D'Mitrik Trice was the only Wisconsin player with any kind of success in that first game, scoring 20 points from 7-of-13 shooting.
Otherwise, it was pretty bare and Potter was the only other player to score more than six points. Since that loss, something hasn't clicked for this team, losing by double digits to Ohio State, Penn State and Illinois.
Their disadvantages in the paint have shown up in big ways and there hasn't been enough guard production from everyone else outside of Trice, namely from Brad Davison, Aleem Ford or Jonathan Davis. Making things worse is that Trice has struggled to find consistency, scoring a total of six points in the two games against Penn State.
Wisconsin is still a veteran-laden team with plenty of talent and one of the most-efficient defenses in the country, but it also doesn't seem to have enough to beat elite teams.
The question for this game is if Michigan will remain elite following a three-week pause. If you think not practicing for a couple weeks won't matter and the Wolverines simply have a matchup edge, you can get decent odds for them to win.
But if you think that'll play a major role along with Wisconsin's desire to bounce back, the Badgers are at home and that has to mean something.
Predicted Score Wisconsin 66 Michigan 65