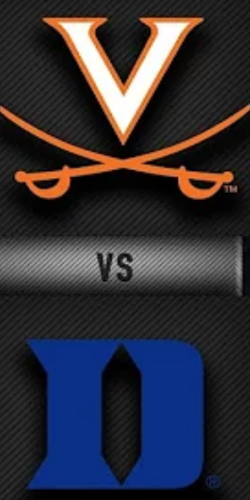 This matchup gets top billing Saturday, mainly because it's Duke and Virginia. The Blue Devils have strung together a couple big wins, but they've come against two of the worst teams in the ACC, while the Cavaliers are coming off their own beat down by Florida State.
But while Virginia could still win the ACC and get a top seed in the NCAA tournament, Duke's only route to March Madness is if it can win the conference tournament. While that's a big ask for a team that's 9-8 overall and 7-6 in conference play, there will be plenty of people who beat them to do it. 
The next few games should be a good barometer of how competitive Duke can be in the conference tournament. In addition to this home game against Virginia, it gets Syracuse and Louisville the following week.
Win two or even three of those, and the bets on Duke to win the ACC tourney will only increase. Of course, this is a team with its current best wins coming against Notre Dame and Clemson.
The loss of Jalen Johnson doesn't seem to have changed anything within the team, as that's given more time to guys who want to be there. The best way for the Blue Devils to contend with top teams is if they get consistent production from their backcourt, but also Mark Williams becomes a presence in the paint.
The freshman big man only recently moved into the starting lineup and has played 47 minutes the last two games despite averaging 10.9 for the season. If he can continue to improve in the coming weeks, that'll be a huge boost to their post defense.
That said, another one of Duke's issues is that it's one of the worst in the ACC at stopping the three, allowing close to 39% from deep. While their offense ranks No. 2 in the conference in efficiency, a lackluster defense is the main reason they lost recent games to UNC and Notre Dame, allowing more than 90 points in each game.
That's where an all-around solid Virginia team comes in. Jay Huff and Sam Hauser have turned into a dominant two-man frontcourt, averaging a combined 27.7 points and 13.4 boards per game.
It doesn't help, especially in this matchup, that both of them shoot better than 43% from deep. Then you throw in sharpshooter Trey Murphy, as well as Tomas Woldetensae off the bench, and Duke will have a problem matching up.
Matthew Hurt will be fine, but asking the freshman Williams to step out and guard Huff will be difficult. Otherwise, Kihei Clark and Reece Beekman run the backcourt, and while neither are major offensive options, they don't need to be.
If Virginia is going to score, Duke will have to find a way against the patented Virginia defense even if it hasn't been as good this season.
Hurt will likely be forced to do most of his work from outside the paint, while others will have to step up. DJ Steward, Wendell Moore and Jeremy Roach have had good games, but none of them are above-average shooters, which is a problem against Virginia. 
Duke has the name and is on a two-game winning streak, but that doesn't matter when you beat up bad teams. Virginia is looking to bounce back after getting destroyed by Florida State and this matchup favors them on both ends of the court.
Predicted Score Virginia 67 Duke 65