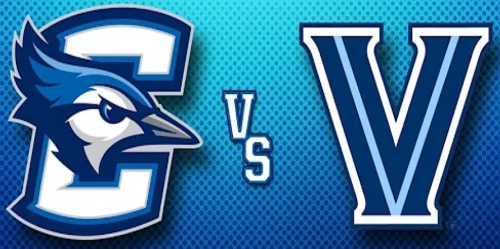 The Big East standings look a little weird because of COVID-19, but once Villanova and Creighton play each other twice, the picture at the top will be a little clearer.
Villanova is the favorite at 8-1 in conference play, compared to 11-4 for Creighton, but there is still a long way to go. While it's unlikely Creighton could sweep this series and be in a spot to win the conference, there's still a chance.
Villanova is considered the best team in the conference, but it lost to St. John's in its last road game, showing nothing is guaranteed in college basketball.
Creighton Better Defensively
As for Creighton, it looks to be back to normal having won five of six after losing back-to-back games against Butler and Providence. On the down side, the lone loss for the Bluejays in that period was at home against Georgetown in which they gave up 86 points. 
On paper, this matchup should feature points, but when these teams met last year with similar lineups, 'Nova won the first game 64-59 and then Creighton won the second 76-61, the under hitting both times. Of note, the home team lost both of those games.
According to the numbers, Creighton has the better overall team because of its defense, but if this game was on a neutral court, Villanova would be favored because it has the fifth-most efficient offense in the country.
While the Wildcats only scored 59 points against St. John's last weekend, they've scored close to 80 in almost every other game this year.
Villanova Balanced
That's because of a balanced group with five players averaging at least 10 points per game. Jeremiah Robinson-Earl does the dirty work in the paint (in addition to shooting from three) and leads the team with 15.3 points and 7.3 boards per game, while Collin Gillespie runs the offense and averages 4.8 assists per contest.
Justin Moore does a little bit of everything, while Caleb Daniels, Jermaine Samuels and Cole Swider are all a little more inconsistent as the team's best shooters. Even when the shots don't fall, Robinson-Earl is usually there to scoop the board and get a put back.
The problem for both of these offenses is that they match up fairly well with each other, which may be the reason the under hit both games last season. Robinson-Earl has to go against a small-ball center in Christian Bishop, while Marcus Zegarowski is in the same mold as Gillespie in that he runs the Creighton offense. 
Bluejays Can Shoot
Elsewhere, the Bluejays have a number of guys who can shoot and go for 20 points on any given night. Five guys average at least 10 points per game and despite leading the team in scoring, Denzel Mahoney has just 10 points the last two games.
Mitch Ballock is the pure shooter for Creighton, while Damien Jefferson does a little bit of everything and is second on the team in assists even as a forward.
Playing at home doesn't matter these days, but there's no doubt these teams know what's at stake in this matchup.
Similar to last year, it could be a tad more defensive only because they match up so well with each other and there isn't a huge advantage on either end of the court. Creighton is slightly favored at home, but Villanova has already won at Texas and Seton Hall this season, so that shouldn't mean everything.
Predicted Score Creighton 75 Villanova 74