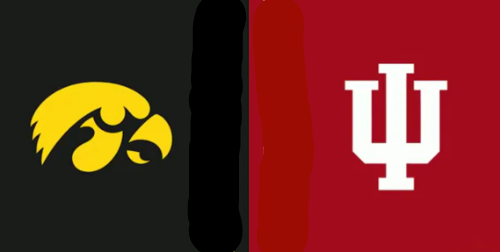 Iowa is on its third game in six days, which is unlikely to help against a team who hasn't played since Tuesday and is in need of a win after losing two straight. The Hawkeyes were once thought to be the best team in the Big Ten, but they've had a few surprising losses and more ahead seem likely. 
The Hoosiers are just trying to be relevant and get enough quality wins to make the NCAA tournament, and a sweep of this series would undoubtedly help. They took Illinois to overtime Tuesday, but couldn't find a way to get the win.
It was a weird 81-69 win for Indiana when these teams met a couple weeks ago. Iowa led most of the way and then Indiana went on a 23-3 run late in the second half and that was it.
The Hawkeyes went on a stretch in which they couldn't make a shot despite having the most-efficient offense in the country. Needless to say, another 10 or 12-minute drought is unlikely to happen for this offense, which gives them an advantage in the rematch, even on the road.
Iowa Lacks Defensively
Still, the Hawkeyes are not a good defensive team and that's the main reason they have losses. They let Indiana shoot 50% from two-point range and 8-for-17 beyond the arc in the first meeting along with 35 free-throw attempts. That kind of defense isn't enough against most teams and it could lead to another loss in this matchup.
The Hoosiers are 9-8 overall because of inconsistency, but on their best night, they can compete with the best teams in the conference. That's because big man Trayce Jackson-Davis is one of the best players in the country, averaging 20.1 points and 9.0 boards per game.
Combine that with a bevy of guards who can all shoot and power forward Race Thompson, who does a little bit of everything and it's easy to see why they're competitive.
The problem is that those guards don't always make shots between Armaan Franklin, Al Durham and Rob Phinisee. Even Thompson is a bit all over from posting one point in the win against Iowa to dropping 18 and eight boards in the loss against Illinois.
However, Iowa's defense seems to bring out the best in everyone, which is why Indiana had four guys in double figures the first meeting. But even if that happens again, the Hawkeyes aren't going to go almost scoreless in a 10-minute period again. 
Luka Garza had 28 points and 12 rebounds in the first game and he has a decent size advantage over Jackson-Davis, who can't afford to get into foul trouble. Garza will get his buckets and if Iowa want to win, it'll depend on everyone else because no one other than Joe Wieskamp had more than eight points in that first matchup.
Hawkeyes Deep
That's more than possible because the Hawkeyes have a deep team and almost everyone can shoot from distance. Jordan Bohannon is on a bit of a cold streak, but he's always a threat offensively, while Jack Nunge is another big man off the bench.
Guys like CJ Frederick and freshman Keegan Murray have also had big games this year, but none of that happened when these teams met a couple weeks ago.
Indiana will be in this game again, but it's hard to rely on another drought from Iowa. But while the Hawkeyes have a deeper team, their lack of defense always leaves them susceptible to teams who can score like the Hoosiers, led by Jackson-Davis.
Of note, Indiana hasn't had much home-court advantage this season, dropping its last three at Assembly Hall, a poor streak for a team trying to make the tourney.
Predicted Score – Indiana 80 Iowa 77