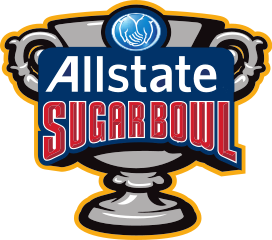 1/1/19
The SEC love is real in the Sugar Bowl, though some of that has to do with people thinking Georgia belonged in the College Football Playoff. Either way, Tom Herman and Texas are an underdog, which usually means bad things for the opponent. The Bulldogs were up to -14 point favorites with an over/under of 58 (at 5Dimes Sportsbook) a week before the Game in New Orleans. The line opened at -10.5 so Georgia got a lot of the early money.
There's no doubting Georgia (8-5 ATS) as an elite team since it should've beaten Alabama in the SEC title Game. And while the Bulldogs got ran off the field by LSU, they dominated every other matchup and that's the reason this spread is at two touchdowns. Texas (5-7-1 ATS) had more varied results from losing to Maryland in the opener to barely getting past teams like Kansas State, Baylor and Kansas. But no matter what, the Longhorns battled and had a real chance to upset Oklahoma in the Big 12 title Game before failing to Scorein the Fourth quarter.
Georgia's defense is likely the best group that Texas has seen this season so that'll be the first test. The Bulldogs may not be as good as a year ago, yet still allowed just 18.5 points per Game and 5.9 yards per pass attempt. They were mediocre against the rush, but that's not an area Texas excelled in. The Longhorns managed just 3.8 yards per carry as a team with Tre Watson (695 yards) and Keaontay Ingram (683 yards) splitting most of the work. Quarterback Sam Ehlinger also ran for 418 yards and 13 touchdowns, but Texas may have to lean on his arm to win this Game. That could be possible because he posted a solid 25 touchdowns and only five interceptions on 7.85 yards per attempt. Top wide outs Lil'Jordan Humphrey (1,109 yards, 9 TDs) and Collin Johnson (945 yards, 7 TDs) will be a good test for the stout Georgia secondary. This offense struggled at times, but always seemed to play to the level of opponent.
The Texas defense is another question because while it had worse numbers, three of its Games came against Will Grier and Kyler Murray. The Longhorns allowed 26.2 points per Game, but that was one of the better rates in the Big 12 and they still allowed a solid 3.9 yards per carry.
Georgia has plenty of offensive talent, but isn't as high flying as the top Big 12 teams. The Bulldogs simply want to pound the ball down the opposing team's throat and that's where D'Andre Swift (1,037 yards, 10 TDs) and Elijah Holyfield (956 yards, 7 TDs) come in. Those two led the way for an offense that averaged 6.1 yards per carry and if Texas wants a chance, it has to limit what those two do. Even then, Jake Fromm showed his ability in the loss to Alabama, putting together maybe his best Game of the year. He wasn't often asked to do much because of the ground Game, but still posted solid numbers with 27 touchdowns and five interceptions on 9.33 yards per attempt.
Georgia may have the better overall team at the end of the day, but Texas head coach Tom Herman has a career 12-3 ATS mark as an underdog with the last two losses coming in the last two months, the 42-41 loss to WVU and the most recent 12-point loss to Oklahoma. In both situations, the Longhorns were covering almost the entire way before late in the Fourth quarter.
The Longhorns are 5-2 ATS in their last seven neutral-site Games and 13-6-2 ATS vs. a team with a winning record. The Bulldogs have covered in their last five bowl Games and are 19-7 ATS vs. a team with a winning record.
Our Pick – Georgia -13