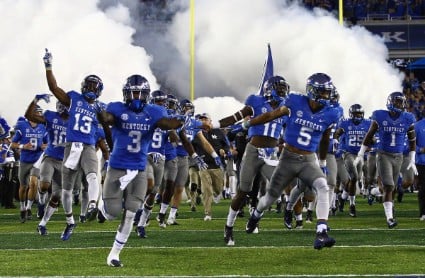 SEC West meets SEC East when the Arkansas Razorbacks (2-3) travel to Lexington, Ky to face the Kentucky Wildcats (2-3). Both teams are winless in conference play, but one will inevitably walk away with a coveted victory at the conclusion of this bout.
Kentucky opened as 7-½ point favorites in their bid to defend their home turf, but the line has dropped to as low as 6 depending on your sportsbook of choice.
As of Wednesday, the Wildcats are taking 52% of all bets. The total opened at 53-½ points and has yet to move.
Both teams need a win
Kentucky seemed to be on the right path after starting the season 2-0 and nearly downing, but ultimately losing to the #9 Florida Gators 29-21.
They proceeded to drop their next two games, both on the road, to Mississippi State and South Carolina. They never threatened their foe in either game. Certainly, they will be eager to stop the bleeding while returning to Kroger Stadium.
Arkansas, for their part, nearly got a huge win over #23 Texas A&M, but blew a fourth quarter lead en route to a 31-27 loss.
The week before that they suffered an embarrassing loss to a better-than-you-might-think San Jose State team. SEC teams expect to win 100 out of 100 games against teams like that and it definitely wounded their pride.
Razorbacks shine on defense
This isn't the season fans in Fayetteville, AR wanted, but there are reasons to be happy. Arkansas ranks 27th in total defense thanks in part to producing 15 sacks, 5 interceptions and recovering 5 fumbles.
As the saying goes, defense wins championships and while this team isn't playing at a championship level in 2019, far from it in fact, they are at least on the right track.
They are facing an offensive unit in the Kentucky Wildcats that they are fully capable of stopping. If Arkansas is going to win they will probably need the defense to produce turnovers. If they do that, they are dangerous.
Both teams are lacking in offensive production
Total offense numbers for both of these teams are very low. Arkansas ranks 61st and is producing 28.6 PPG. Kentucky is worse, checking in at 91st best while producing 23.4 PPG.
This might be attributable to dominating defenses both teams have faced to this point in the season, but nonetheless, we shouldn't expect this to be an ultra high scoring game. In fact, it might be a defensive battle for four quarters.
Lack of familiarity for both teams
Kentucky head coach Mark Stoops noted that Kentucky has yet to face Arkansas during his regime and that preparation will be a key factor in the outcome of the game.
The Wildcats will have to be on their toes. Stoops was generous with his praise of the Razorbacks. Likewise, Arkansas head coach Chad Morris noted the overall ability and dynamism of the Kentucky roster. Particularly, the linebacker corps.
This lack of familiarity could be a key aspect of the game. Look for both coaches to creative with their playbooks.
Our Pick – Kentucky -6.5