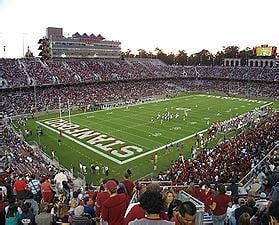 The Stanford Cardinal season win total betting line for 2019 has been set at over or under 6.5 wins. Expectations are low for Stanford this year as their current odds to win the PAC-12 are 21 to 1 which places them middle of the pack.
Not surprisingly, bettors are favoring the over bet. The betting public tends to react to the most recent results. They see 9 wins a year ago and don't think a 3 game drop off is in the cards.
The Cardinal struggled against the toughest competition on the schedule last season, but eased past the weaker teams leading to a ho-hum 14-13 win over Pittsburgh in the Sun Bowl. With another difficult schedule, the Pac-12 title remains unlikely.
Injuries Hurt the Offense Last Season
Injuries were the main issue for a lot of last year's offensive struggles as Bryce Love battled numerous problems and the line seemed to change every week. It also didn't help that the Cardinal were working in a new OL coach.
Returning that ground game to relevance is the first step for this offense even though quarterback K.J. Costello was electric at times last season, throwing for 29 touchdowns and 11 interceptions on 8.6 yards per attempt.
He lost his top receivers, but that shouldn't be an issue with tight end Colby Parkinson (485 yards, 7 TDs) one of the best in the country to go with wide outs Osiris St. Brown, Connor Wedington and a slew of sophomores expected to step into bigger roles.
While that's fine, the rushing attack needs to improve after averaging 3.7 yards per carry as a team. Cameron Scarlett and Trevor Speights take over as the lead options, but the line is still a question.
One full-time starter returns in Walker Little, while the others at least saw time last year due to injuries.
Defense Struggled Against Top Teams
The defense also struggled against better opponents last year even though it allowed a decent 23.8 points per game. The line should be fine with guys like Jovan Swann and Thomas Booker on the ends, but the linebacking corps is somewhat unknown in the 3-4.
There are options on the outside with Andres Fox and Jordan Fox, but the inside could be completely new with two freshmen possibly set for starting roles.
The secondary is similarly hit-or-miss with underclassmen, but Paulson Adebo is a first-team Pac-12 cornerback and only a sophomore.
7 Wins Looks Like a Good Target
David Shaw will have Stanford ready and relevant in the Pac-12, but winning the conference feels like a long shot again. While it gets two home games in non-conference play, neither Northwestern nor Notre Dame is considered a freebie and the trip to UCF takes place between USC and Oregon early in the season.
Those aren't recipes for success for an unknown offensive line and younger linebacking corps. The Cardinal should grab a couple road wins in Pac-12 play against the likes of Oregon State and Colorado, but reaching eight regular season wins again will likely mean they have to upset either Oregon or UW at home or win at USC or Wazzu.
This team will be a nuisance like always, but unless the Cardinal can get out to a nice start with a difficult schedule, they likely won't challenge near the top of the standings.
Use Returning starters to handicap college football
2019 Stanford Cardinal Football Schedule
Aug. 31 vs. Northwestern (opened -6.5)
Sept. 7 at USC (opened +2.5)
Sept. 14 at UCF (opened +2.5)
Sept. 21 vs. Oregon (opened +3)
Sept. 28 at Oregon State
Oct. 5 vs. Washington (opened +2.5)
Oct. 17 vs. UCLA (opened -6.5)
Oct. 26 vs. Arizona
Nov. 9 at Colorado
Nov. 16 at Washington State (opened +4.5)
Nov. 23 vs. California
Nov. 30 vs. Notre Dame (opened +5.5)