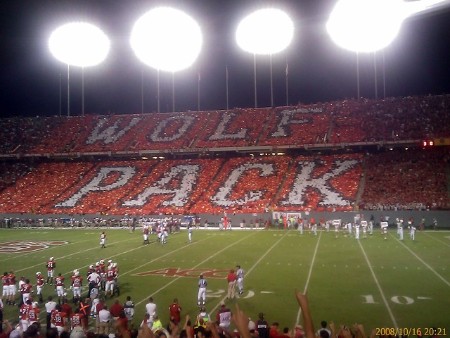 It's been a troubling start for both Syracuse and NC State and each will be looking for its first ACC win following a mini bye week. The Wolfpack are playing at home and opened as a -3.5 point favorite for Thursday night's game.
There aren't many good things to say about these teams. Both have been blown out by better competition and beaten bad teams. Syracuse's best win is Western Michigan and NC State's is either East Carolina or Ball State.
It was a different situation when they met a year ago as both had at least something going for them. In a shootout in which neither team could run the ball, the Orange won 51-41. It wouldn't be surprising if it was another shootout as the defenses are playing at a similar level.
According to the numbers, NC State's defense has actually been good, allowing 71.8 rushing yards and 20.8 points per game. However, dive a little deeper and a lot of that has to do with their three wins against weaker competition. West Virginia averaged 6.2 yards per carry when it dropped 44 points on NC State a few weeks ago.
The question is what the Syracuse offense can do against a big-conference opponent. They couldn't do anything against Clemson and Maryland, but haven't had trouble in the last two games.
Most of that falls to quarterback Tommy DeVito, who is averaging just 7.4 yards per attempt on 63.5% completion. The problem is that eight of his touchdowns have come in the last two games and he's been sacked 18 times this season. DeVito is also questionable to play because of injury and if he can't go, inexperienced Clayton Welch is next man up.
It doesn't help that running backs Moe Neal and Abdul Adams are struggling to get going, both under 4.5 yards per carry. Still, it was always going to take time for this offense to figure itself out with a new quarterback and at the least, it should look better than the two losses. Unfortunately, even if you like Syracuse, it'll be hard to bet on Welch if he gets the call.
That's also because Syracuse's defense might be really bad. When it lost to Maryland, it was assumed the Terps were for real because of the win, but the truth was that the Orange have a bad defense.
Of course, NC State may have a bigger problem at quarterback as head coach Dave Doeren still doesn't know who his guy is going forward. Bailey Hockman took over against Florida State, but didn't show much completing 52.5% of his passes on 5.1 yards per attempt.
He took over because Matthew McKay wasn't getting the job done, averaging 6.1 yards per attempt with three of his starts against bad defenses. Then there's Devin Leary who attempted five passes last game after Hockman went down with what he says is a minor injury. Either way, it's likely the Wolfpack will start the game running the ball and never turn back.
They're averaging a decent 4.8 yards per carry with Zonovan Knight, Jordan Houston and Rick Person Jr. all active out of the backfield. Given how the Syracuse defense has played, NC State may not need great play from its quarterback to put points on the board.
This is a hard matchup to figure out between two teams in transition, which is why the spread is where it's at. The under is 4-0 in NC State's last four games on grass and the road team/underdog is 5-1 ATS in the last six meetings between these schools.
Our Pick – Syracuse +4.5