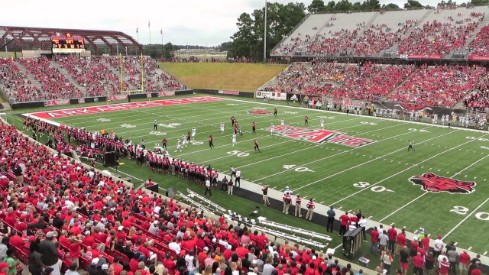 Arkansas State (3-3) hosts Sun Belt conference rival Louisiana Lafayette (4-2) on Thursday at 7:30 p.m. in a game that will be broadcasted nationally via ESPNU.
The Red Wolves of Arkansas State opened as six point underdogs, but that line has already moved to 5-½. Arkansas State is taking slightly more action having garnered 52% of all bets. These teams last met one year ago in an exciting game that Louisiana Lafayette won 47-43.
Louisiana Lafayette enters this game fresh off a 17-7 home loss to Appalachian State. They kept it close most of the game, but ultimately were unable to get their offense rolling. The key stat?
They were 0-2 on fourth down. Arkansas State also lost last week, 52-38 on the road against Georgia State. They turned the ball over twice and allowed an eye popping 722 yards of total offense.
Conference implications
Louisiana Lafayette and Arkansas State both reside in the West division of the Sun Belt conference. Both are 1-1 in what looks like a competitive group. The hopes of their season will be affected by the outcome of this game. Expect both teams to hit the field ready to bang heads.
Ragin Cajuns love to rush
The Ragin Cajuns running backs versus the run defense of the Red Wolves could be a key matchup. Louisiana Lafayette is ranked sixth nationally in rushing offense and second in yards per carry, behind only juggernaut Oklahoma. That is bad news for Arkansas State because their rushing defense ranks near the very bottom of all FBS teams.
Junior RBs Trey Ragas and Elijah Mitchell split the carries. Between the two of them they have carried the ball 143 times for 1,042 and 15 TDs. If they play well, Louisiana Lafayette tends to win. If they don't, the Ragin Cajuns typically lose.
If the Red Wolves are going to win, or just not get crushed, they are going to have to go score for score with their opponent. They need to stymie Ragas and Mitchell on more than a couple of drives, but that is much easier said than done.
Arkansas State will rely on ferocious offense
Remember the saying defense wins championships? Well, nobody told Arkansas State! They have taken the exact opposite route instead, believing that the best defense is a good offense. They rank 15th nationally in total offense while averaging 40.4 PPG and are particularly effective through the air.
Alabama transfer Hatcher leads the way on offense
Fortune has shined on freshman QB Layne Hatcher who has taken the reigns of the Arkansas State offense after junior signal caller Logan Bonner's season ended due to a thumb injury. All things considered, Hatcher has played well. His stat line reads 49/72 for 792 yards, 8 TDs and 5 INTs.
Obviously, he needs to cut down on the interceptions, but remember he has only played two games so far and this time last year he was still in high school. The Red Wolves need him to grow up quickly, but so far he hasn't been bad. The fewer mistakes he makes the more likely it is his team will win.
Our Pick – UL Laf -5.5