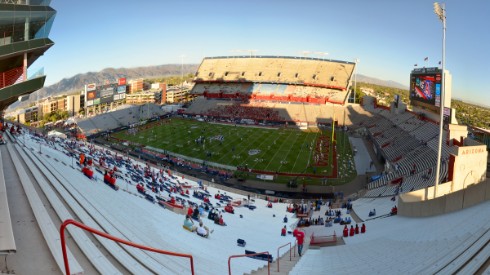 Utah and Arizona are going in opposite directions and that will likely continue in this game. Utah has won its last six, while Arizona has lost its last five. And so, the Utes were -22.5 point road favorites with an over/under of 58.5 as of Wednesday.
The Utes have dominated all of the weaker teams in the conference from winning 52-7 at Oregon State to beating UCLA 49-3 last week.
It's been a bit different for the Wildcats and playing at home shouldn't change things as they lost 56-38 to Oregon State a couple weeks ago. Against similar competition in Oregon last week, Arizona managed six points in a 34-6 loss.
There's a good chance this one goes similar because Utah's defense may be better than Oregon's.
The Utes are dominating both lines of scrimmage and it stands out the most on the defensive side, allowing 2.3 yards per carry and just 11.3 points per game. The Wildcats are using a combination of Khalil Tate and Grant Gunnell at quarterback, and that's led to a bunch of losses.
Tate may be electric with his legs, but he's averaging 4.2 yards per carry and has been sacked 18 times.
Gunnell has a slightly better arm, which is why he's been worked into the offense but not good enough to change outcomes, as he's averaging 8.2 yards per attempt and that's not much more than Tate.
Running backs J.J. Taylor and Gary Brightwell have provided sparks at times, but it's hard to see them getting much in this game.
In fact, all signs point to a result similar to last year's 42-10 Utah win. The Utes ran for 230 yards, while the Cats managed 72 on 2.3 yards per carry. Arizona's defense is at about the same level this year, allowing 480.2 yards and 37 points per game. 
Utah prefers to run, but Tyler Huntley is equally efficient through the air, completing 74.2% of his passes on 11.5 yards per attempt for 13 touchdowns and one interception.
In addition to being safe with the ball, he's also extremely accurate. Combine that with Zack Moss, who has rushed for at least 99 yards in the last five games and this offense should be close to the 40-point mark, similar to last week's win against UCLA.
The Utes have no reason to look ahead with a home game against Colorado in the regular season finale. As long as they don't slip up, they'll be headed to the Pac-12 title game against Oregon.
Utah has covered its last six games overall, while Arizona has failed to cover its last five. The Utes have covered the last three in this meeting, though none of the spreads have been close to the 20-plus points in this one. The under is 5-2 in the last seven meetings between these teams.
Our Pick – Utah -22.5