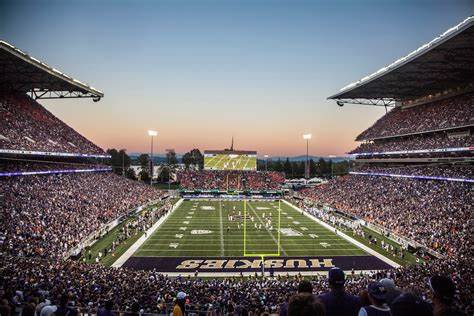 Before the season, this looked like a possible Pac-12 title matchup. While that's no longer the case for Washington, Utah still has a decent chance to get there, though has to win this game for that to happen. The Utes were -4 point road favorites with an over/under of 47.5 as of Tuesday.
These teams are all about competitive matchups and that's highlighted by last year's title game, a 10-3 Washington win. In fact, the two games they played last year combined for just 41 total points.
Of course, a lot of that was because of Washington's dominant defense, which is no longer the case. The Huskies are losing for a variety of reasons, but their defense has struggled and gave up 35 points to Oregon last game.
That's the main advantage the Utes have in this game as they've allowed 23 points in their four games since losing to USC. They're on a mission and the Huskies are in their path. However, even though Washington's season is a bust, it's still a prideful team who would find joy in stopping anyone from reaching its goal.
Winning this game a month ago didn't look possible, but the Huskies have turned things around in recent games, namely the 31 points scored against a good Oregon defense.
Quarterback Jacob Eason is at the head of that improvement sporting solid numbers on the season averaging 8.5 yards per attempt for 16 touchdowns and three interceptions. Top wideout Aaron Fuller is questionable with an ankle injury, but he missed the Oregon game and that wasn't a major problem for Eason.
The ground game has kept them afloat after Salvon Ahmed rushed for 140 yards against the Ducks and is averaging 5.8 yards per carry on the season. While Oregon has a good rush defense, Utah has actually been better, allowing 56.4 rushing yards per contest and just 10.3 points per game.
Some of that has to do with schedule, but when you hold a team like Washington State to 13 points, you're doing something right. The question is if Washington's offense can continue what it did against Arizona and Oregon. If so, it will be in business, especially at home.
That said, Utah has a leg up on the other end because UW is allowing 147.6 rushing yards per game and doesn't have the same talent on the defensive front as in years past. That's why the Huskies already have three conference losses and could have four after this one.
The Utes maybe don't have an elite offense, but they have a consistent one with running back Zack Moss averaging 6.6 yards per carry to go with quarterback Tyler Huntley at 4.7 ypc. When healthy, Moss has been close to unstoppable and could go for another 100-plus yards against an iffy rush defense.
That said, if Moss finds any resistance, it'll be up to Huntley's arm and that's not a guarantee despite what the numbers say. This is a run-first offense, but that's also helped him complete 73.1% of his passes on 10.6 yards per attempt for 10 touchdowns and one interception.
That's great, but a lot of those numbers come when opponents stack the box to stop Moss. Sure, the same thing could happen in this game, but having success at Washington won't be easy.
The under is 4-0 in Utah's last four on field turf and 4-1 in Washington's last five at home against a team with a winning road record. The Huskies are 4-1 ATS in their last five against a team with a winning record and the underdog is 5-2 ATS in the last seven meetings between these schools.
Our Pick – Washington +3.5