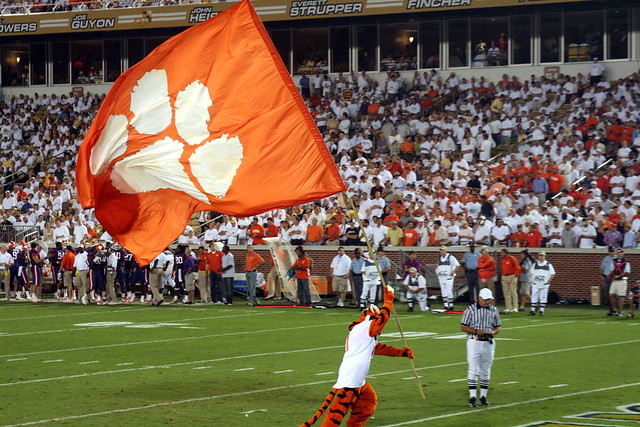 By its standards, going 14-1 was somewhat disappointing for Clemson last year. That one loss likely remains in the minds of a lot of players, as well as head coach Dabo Swinney.
Of course, there's no reason the Tigers can't reel off another undefeated campaign and make the College Football Playoff again.
The ACC should be better than a year ago, but that probably won't matter since this team is still a wide margin above everyone else. Unsurprisingly, Clemson had the best odds (+225) to win the National Championship early in the spring at 5dimes Sportsbook.
Trevor Lawrence Returns
That's because there's a decent chance Clemson's offense is better after averaging more than 520 yards and 43 points per game. That's because quarterback Trevor Lawrence (3,665 yards, 36 TDs, 8 INTs), expected No. 1 pick in the 2021 NFL Draft, and running back Travis Etienne (1,614 yards, 19 TDs, 7.8 ypc) are still there.
Sure, there are other players gone, like four along the line and a couple wideouts, but this group will be fine. The offensive line has some new faces, but most of them have some experience on campus.
Lawrence also gets back receivers Justyn Ross (865 yards, 8 TDs) and Amari Rodgers (426 yards), so it's not like he won't have options, in addition to backup running backs like Lyn-J Dixon.
If Lawrence can go to another level and reduce turnovers (eight interceptions in 2019), this offense should cruise against everyone on the schedule.
Defense Figures to be Elite
There's also little reason to doubt the defense because that's rarely a good idea as long as Brent Venables is still the coordinator. While a few guys have to be replaced, the pieces are there for this to be another elite defense.
Xavier Thomas can be a presence on the end and linebacker Mike Jones Jr. has the talent, while corner Derion Kendrick and safety Nolan Turner could become top players in the conference.
Throw in a slew of stud freshmen highlighted by Bryan Bresee and the Tigers will be fine after allowing a nation-best 10.6 points and 244.7 yards per game last year. Even if they aren't as good, they could still be the best in the conference.
Clemson opens the season on the road, but that shouldn't be a major worry against Georgia Tech. While there are road games against teams like Florida State and Notre Dame, not many will want to bet on the home team.
Undefeated Again?
Sure, the Tigers will have a couple close games similar to last year, but with Lawrence and Etienne still running the show, it's hard to see anyone in the ACC, or even Notre Dame, being able to steal a win.
It doesn't help opponents that Clemson also has a bit of motivation because of the loss to LSU. Combine that with the likely final season for Lawrence, who could be aiming for better numbers and a hopeful Heisman campaign, and it's easy to see why the Tigers could go undefeated again.
As long as Swinney and Venables are running things and no one else in the ACC moves up another level, that'll continue to be the case for Clemson.
Below is the Clemson schedule with predicted scores for every game. Keep in mind, these predictions are using data from last season.
Clemson ranks towards the bottom half of all teams in terms of returning production. However, it's Clemson. They recruit top talent year after year.
2020 Clemson Tigers Football Schedule
Sept. 3 Clemson 48 at Georgia Tech 10
Sept. 12 Clemson 53 vs. Louisville 14 (-23.5)
Sept. 19 Clemson 73 vs. Akron 3
Sept. 26 Clemson 44 vs. Virginia 14
Oct. 2 Clemson 50 at Boston College 16
Oct. 10 Clemson 42 at Florida State 14
Oct. 17 Clemson 53 vs. NC State 8
Oct. 24 Clemson 54 vs. Syracuse 11
Nov. 7 Clemson 28 at Notre Dame 19
Nov. 14 Clemson vs. The Citadel
Nov. 21 Clemson 46 at Wake Forest 16
Nov. 28 Clemson 39 vs. South Carolina 10