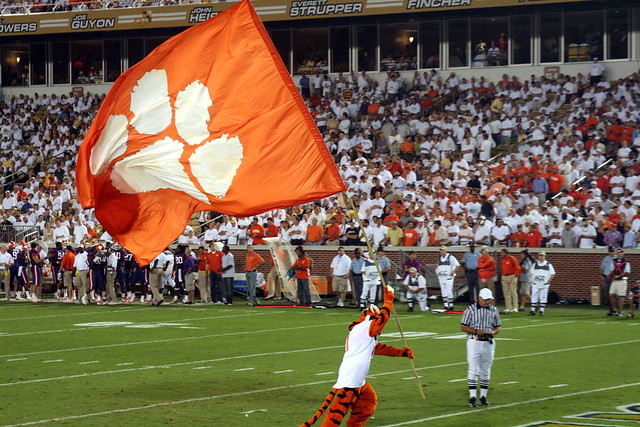 Clemson is humming along and Boston College isn't the team to slow them down despite having a 4-2 record. The Tigers had one of their easier wins of the 2019 season against BC and some of that is likely incorporated in the opening -31 point spread to go with an over/under of 60 points.
Bet the Game at BetAnySports with Reduced Juice!
As long as they feel like it, Clemson can destroy all of the mediocre teams in the conference by at least 30 points. That didn't happen against Syracuse last week mainly because of a first-half blocked punt and then a Trevor Lawrence pick six. Take those away and it's a 47-7 win, another huge victory for the Tigers.
That's how last year's meeting with Boston College went as Clemson dominated both sides of the ball in a 59-7 win. That could be the case again, but it's worth noting BC has a new head coach in Jeff Hafley, the former Ohio State defensive coordinator.
That's the main reason the Eagles are a different team this season, passing the ball a little more. That being the case, their defense still has some issues and is allowing 382 yards per game. While they've had some decent outings, they also gave up 40 points and 350 rushing yards to Virginia Tech.
There may not be a defense is the country that can stop Trevor Lawrence and the Clemson offense, but one that struggles to stop the run definitely isn't going to do it.
Travis Etienne maybe hasn't been as explosive on a game-by-game basis, but he's averaging 6.3 yards per carry for 522 rushing yards to go with 294 receiving yards and nine total touchdowns.
Lawrence has done the rest, completing more than 70% of his passes on 9.6 yards per attempt for 17 touchdowns and two interceptions. Throw those together and they're averaging close to 50 points per game, which only means trouble for Boston College.
The best chance at a BC cover likely comes from quarterback Phil Jurkovec. He has three 300-yard games this season, totaling 12 touchdowns and four interceptions. It's a different offense for BC after focusing mainly on the ground game under their prior coach.
But while Jurkovec has been good with top receivers Zay Flowers and Hunter Long, that may not be enough in this matchup, especially since the rushing attack is averaging just 3.0 yards per carry, hurt by 18 sacks.
If you aren't good on the offensive or defensive line, then there are few chances to cover against Clemson. The spread is large for a reason and while Clemson could look ahead to its big matchup against Notre Dame the following weekend, that may not matter.
Lawrence and Etienne should score at will and the defense could swallow up a BC offense that can't run the ball.
Clemson -31