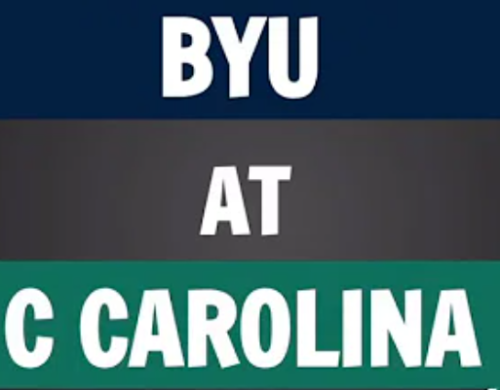 Coastal Carolina will host BYU Saturday Night in what shapes up as one of the most intriguing college football games to come down the pike in ages. Intriguing for many reasons, one of those being the fact that both teams are 9-0. Needless to say, there are all kinds of major Bowl game implications.
 As of Friday BYU is a -10 (-10.5 in spots) point road favorite with a total of 61.5 at BetAnySports.
Game Came Together Overnight
 This game came together literally overnight. Coastal Carolina was scheduled to play Liberty this week and BYU was tentatively scheduled to play Cincinnati. COVID killed both of those games.
 This game came to be late Wednesday night and the BYU players were told Thursday. Talk about little to no prep time. This has to favor Coastal Carolina. Sure, they too, have little time to prepare, however, they have more time than BYU as they don't have to travel, which of course is beneficial in many ways.
BYU Flying High
 BYU has everyone's attention this year because of their 9-0 record and because they have done so in dominating fashion. Of course, they have played no one and that's the knock on this team in 2020.
 Coastal Carolina isn't exactly a "someone". What everyone would have liked to have seen, is BYU take on a major opponent from a major conference. But Coastal Carolina isn't a "nobody" either.
 The best place to start when looking at this game is LAST season. Both of these teams are largely intact from 2019. Most of the same key players from a year ago are in place. The guts of both teams.
 This is relevant because neither team was all that great in 2019. BYU ended up 7-6 but was blown out by Washington and lost games to South Florida, Toledo, San Diego State and Hawaii. They also just squeaked by Liberty, 31-24, who was supposed to be Coastal's opponent this week.
 Coincidentally, both played UMASS last year. BYU won 56-24 and Coastal won 62-28.
BYU is NOT Alabama
 The point being, teams do not become great in one year. There was no massive talent difference last year when BYU took the field against ANYONE with the exception of Utah State and Idaho State. BYU did not all of a sudden become Alabama.
 BYU is at the top of many statistical categories this year. But guess what? Coastal Carolina is only a few notches below in just about all of the same categories.
 Check out the yards per point numbers for each team. Remember, the low numbers on offense are good. High numbers on defense are good.
 BYU 11.9 on offense and 20.5 on defense. Coastal Carolina 11.7 on offense and 19.7 on defense. When you rank them nationally, offensively Coastal is 12th and BYU is 16th. Defensively, BYU is 7th and Coastal is 10th.
 Those are impressive numbers. Alabama's numbers are 11 and 19.3. Notre Dame's numbers are 12.6 and 18.2. Of course, neither BYU or Coastal Carolina is in the same stratosphere as Alabama.
Consider Schedule Strength
Whenever you look at college football stats, you have to consider strength of schedule. But here's the kicker. Both BYU and Coastal Carolina have played a comparable schedule in terms of strength. In fact, Coastal's was a hair more difficult!
 When you add it all up, huge game for the Coastal program, BYU having to travel cross country, no prep time and both putting up lofty numbers against a similar schedule, there's no reason to believe Coastal Carolina won't show up and battle for 60 minutes.
 Our model agrees, predicting a BYU win by a score of 23-21.
 Coastal Carolina +10.5