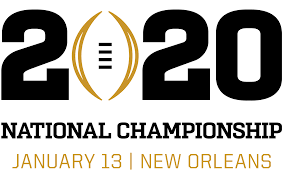 Clemson and LSU have been two of the best teams in the country all season, so this matchup isn't much of a surprise. In the semifinals, LSU disposed of Oklahoma, while Clemson needed a late rally to take down Ohio State.
Coming out of the better conference, LSU was a -5.5 point favorite with an over/under of 69.5 a week before the College Football Playoff Championship game at Mercedes-Benz Superdome in New Orleans.
Clemson managed to cover the spread in the semifinal despite being down 16-0 in the first half. They have covered eight of their last nine games, while LSU is 9-5 ATS for the season.
LSU had the tougher schedule, but it'll be hard to bet against Clemson and Dabo Swinney, having won two of the last three National Championships.
They got off to a slow start this year, beating Texas A&M 24-10 (LSU beat them 50-7) and almost losing at UNC, but then it was domination for the second half of the season. Some flaws were shown against Ohio State, but their experience came through in the end.
LSU Offense a Scoring Machine
It was a little different for LSU because not many expected this offense to turn into one of the best in the country.
They put themselves on the map after beating Texas early and then ran through the SEC with the win at Alabama pushing them into the national spotlight.
They had some close calls, like at home against Auburn, but with everything on the line, they've been unstoppable, destroying different kinds of teams in Georgia and Oklahoma the last two games.
Burrow vs. Lawrence
The biggest talking point for this matchup will be the quarterbacks. Joe Burrow is set to be the No. 1 player taken in the 2020 NFL Draft, while the same goes for Trevor Lawrence in 2021.
Clemson has better defensive numbers, but a lot of that has to do with schedule and LSU has really stepped up the last two games, namely limiting the dynamic Oklahoma offense to 322 total yards. 
Burrow, the Heisman winner, has better numbers and was ridiculous in the semifinals, tossing seven touchdowns and almost 500 yards.
For the season, he's at 5,208 yards, 55 touchdowns and six interceptions on 10.9 yards per attempt and a 77.6% completion rate.
Top receivers Ja'Marr Chase (1,559 yards, 18 TDs) and Justin Jefferson (1,434 yards, 18 TDs) have been a big help, though Terrace Marshall is questionable with a shoulder injury after catching two touchdowns in each of the last two games.
Top running back Clyde Edwards-Helaire (1,304 yards, 16 TDs) had a hamstring issue against Oklahoma and wasn't needed, as freshman Chris Curry was serviceable, averaging 5.6 yards per carry on 16 totes. However, early reports suggest Edwards-Helaire should be full-go for the Championship.
Weak Schedule?
While Clemson has elite defensive numbers, allowing 10.6 points per game, 5.3 yards per pass and 3.0 yards per carry, a lot of that has to do with competition in the ACC.
They came through when needed, but the Buckeyes still managed 7.0 yards per pass and 5.0 yards per rush. It it weren't for numerous red-zone stops, that game could've been out of reach early.
LSU have worse numbers across the board defensively, but in must-win situations, they've had the talent to compete despite allowing more than 21 points per game.
The Tigers weren't elite in any aspect, giving up 6.4 yards per pass and 3.6 yards per carry, but they had one fewer interception (16) than Clemson, and again, looked much better when everything was on the line the last couple games.
The problem is containing Lawrence, who is widely believed to be one of the best quarterback prospects ever. He hasn't had an amazing season, but when Clemson needed points last game, he came through with a ridiculous four-play, 94-yard touchdown drive.
His overall numbers are still solid, completing 67.6% of his passes on 9.3 yards per attempt for 36 touchdowns and eight interceptions, while also adding 514 yards and eight touchdowns on the ground.
His rushing ability was huge in the win over OSU as seen in the 67-yard touchdown run. Lawrence also has plenty of talent around him led by top receivers Tee Higgins (1,115 yards, 13 TDs) and Justyn Ross (789 yards, 8 TDs).
Running back Travis Etienne (1,536 yards, 18 TDs, 8.0 ypc) has probably been the most consistent threat through the season, but when faced with better defenses, he's struggled to produce against the likes of OSU and Texas A&M.
Clemson has the experience, better coaching staff (Swinney, Brent Venables) and better quarterback, but they played a fine line in that Ohio State matchup.
If the defense continues to give up yards and doesn't hold strong in the red zone, Burrow and company could be headed for another huge game.
If that's the case, Clemson can't get out to a slow start, especially since LSU will be amped up behind head coach Ed Orgeron. Clemson did enough against Ohio State, but outside of a couple plays, they struggled in that matchup.
In fact, they averaged 3.25 yards per carry outside of Lawrence's long run and 5.87 yards per pass outside of the 94-yard drive. Obviously, you can't just throw those plays out, but those are relevant numbers to think about.
Clemson is 10-1 ATS in its last 11 bowl games and the under is 4-0 in its last four games on field turf. LSU doesn't have a ton of trends, but it has covered its last four neutral-site games, including the most recent two by huge margins.
Our Pick – Tough to find fault with a couple of 14-0 teams. The argument against Clemson will be, "they played a weak schedule". But ask Alabama backers in last year's game how that argument worked out.
If ever there were a "live dog", it would have to be a team that is on a 29-0 winning streak, led by one of the best college QB's in decades and soon to be an NFL super star.
Our model predicts a straight up Clemson win. We simply can't pass up the points in this type of a setup.
There is a mix of -5.5 and -6.5's on the board as of this writing. Not sure if 'll see any 7's pop up over  next week, but we'll certainly be looking for one.
In the mean time, mybookie has Clemson +6.5 currently. We're going to buy a half point here and take Clemson plus the full TD. Clemson +7 -125