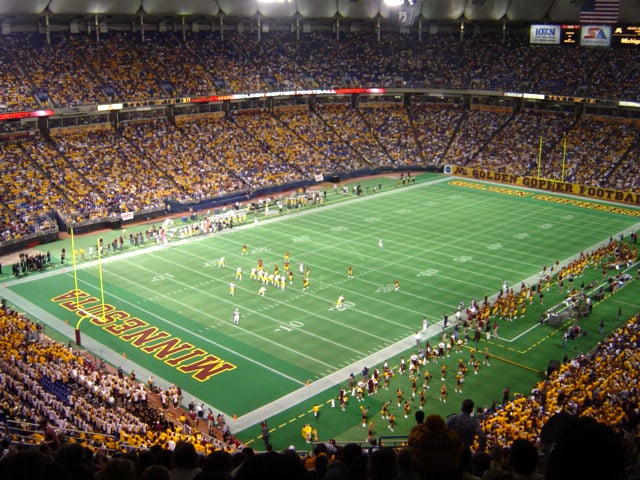 Minnesota blew past expectations in P.J. Fleck's third season in charge, finishing 11-2 with an Outback Bowl win over Auburn. Getting to the next level would mean another nine or 10-win season and making the Big Ten title game.
Of course, that's what everyone wants and bookmakers aren't too high on the Gophers as they have +15000 early preseason odds to win the National Championship, fourth best in the Big Ten West.
Tanner Morgan Returns
Minnesota's hopes rest on the shoulders of quarterback Tanner Morgan, who came out of nowhere last year, tossing 30 touchdowns and seven interceptions on 10.2 yards per attempt.
The hope is that he can gel with new coordinator Mike Sanford Jr. who comes over from Utah State. Running back will have some new faces, but Mohamed Ibrahim (604 yards, 7 TDs) is plenty capable and will likely share the load with a few others.
It's the same at receiver where Rashod Bateman (1,219 yards, 11 TDs) becomes the No.1 guy, likely alongside Chris Autman-Bell. Even better news for the offense is that six players with starting experience return on the line, three of them getting some kind of all-conference honors in 2019.
After averaging 432 yards and 34.1 points per game, there's no reason Minnesota can't reach similar numbers in 2020.
Can Defense Be as Good as 2019?
The question is if the defense can be just as good despite the loss of high-end talent. The Gophers gave up just 312.8 yards and 22.4 points per game, and those numbers will be tough to match with a more difficult schedule.
A lot of the new starters have experience, but they're all moving into bigger roles after an offseason that didn't allow them to acclimate. The hope is that linebackers Mariano Sori-Marin and Thomas Rush can do enough in the 4-2-5, having both started a few games last year.
Cornerback Coney Durr is the most experienced player on the defense, but without much of a spring, this group could have trouble figuring things out early.
Gophers Will be Tested Early
It doesn't help that the schedule gets real right away, hosting a potent FAU squad in the opener. They follow that up with two more difficult opponents in Iowa and BYU to close out September.
It would be great if Minnesota entered the trip to Wisconsin with a 5-0 record, but that may take some luck, and a continuation from last year's success against lesser teams.
Reaching 10 wins in the regular season may be difficult as that trip to Wisconsin and other games against Michigan and Michigan State are in the way, as well as a late trip to Nebraska.
The Gophers had a favorable schedule in 2019 and with the defense expected to take a step back, there's a chance they drop to seven or eight wins if things don't go well.
The hope is that Morgan takes another step and the offense goes to another level, which could lead to valuable road upsets.
2020 Minnesota Gophers Schedule
Sept. 3 vs. Florida Atlantic
Sept. 12 vs. Tennessee Tech
Sept. 18 vs. Iowa (early preseason line MIN -4)
Sept. 26 vs. BYU
Oct. 3 at Maryland
Oct. 10 at Wisconsin (MIN +7.5)
Oct. 17 vs. Michigan
Oct. 24 at Illinois
Oct. 31 at Michigan State
Nov. 7 vs. Purdue
Nov. 21 vs. Northwestern
Nov. 27 at Nebraska