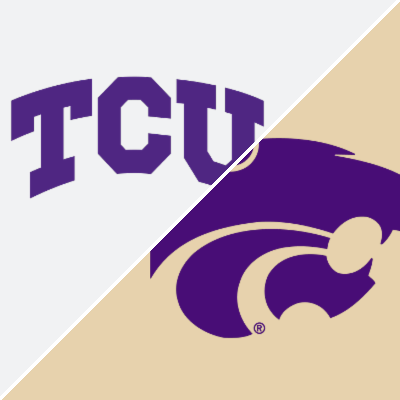 #10 Kansas State Wildcats (9–3) vs #3 TCU Horned Frogs (12-0)
TCU looks to stay undefeated and lock up a spot in the CFP with a win in the Big 12 title game over a Kansas State team they beat by 10 points in the regular season. The Horned Frogs come into this game as a 2.5-point favorite with a total of 61.5.
The public betting money on this title game has been pretty even, as TCU opened as a 2.5-point favorite and that the line as of Wednesday.
On the season Kansas State is 8-3-1 ATS with an O/U record of 6-6 and TCU is 9-2-1 ATS with an O/U record of 7-5.
In the middle of the season at TCU the Horned Frogs beat the Wildcats 38-28 where TCU had a balanced offensive game and forced two turnovers and did not commit any.
This Big 12 championship game is being held at the neutral site at AT&T Stadium in Arlington, Texas. While technically a neutral site game TCU may have some home field advantage, as they are located near Arlington in Fort Worth.
Kansas State had won three in a row over TCU before losing to them this season.
Can KSU Beat a Big Boy?
Kansas State won their last three games of the season and while they did beat two ranked teams, they were Oklahoma and Oklahoma State, who finished the season 6-6 and 7-5 respectively.
The Wildcats are mostly about the run, as they rank a legit 17th in the nation in rushing yards per game and only 94th in passing yards per game.
KSU's big gun on offense is star RB Deuce Vaughn (1,295 yards 7 TD), who rushed for 147 yards in the last game of the season and rushed for 83 yards on only 12 carries in the loss to TCU.
Adrian Martinez led the Wildcats in passing yards this season and had six and only one INT but he did not play in the last few games because of injury. There is an outside chance he will play in the Big 12 title game but Will Howard (1,224 yards 13 TD 2 INT) will get the start and while not the dual-threat QB Martinez is he has 11 TD and only one pick in the last four games where he was only sacked three times.
Howard has five players that have at least 348 receiving yards, including RB Vaughn, and the WR duo of Malik Knowles and Phillip Brooks have combined for 1,174 yards and six TD.
Kansas State will be up against a TCU defense that is giving up an average of 24.5 ppg and ranks 60th in the nation in run defense and 87th in pass defense.
Win and In 
It is pretty simple, as If TCU can beats Kansas State in this conference title game, they will be in the College Football Playoffs. They have beaten five ranked teams this season and have a very balanced offense that ranks 25th in the nation in passing yards per game and tied for 27th in rushing yards per game.
QB Max Dougan (3,070 yards 29 TD 3 INT) is a Heisman candidate, even though USC's Caleb Williams may have the award locked up and ranks 14th in the nation in QBR. He has not been sacked in the last two games and in the win over KSU this season he was 17/26 for 280 yards with three TD and no INT but was sacked four times.
While the Horned Frogs have a solid WR corps their leading WR in Quintin Johnson (764 yards 5 TD) is dealing with an ankle injury but is listed as probable.
Kendre Miller (1,260 yards 16 TD) is a major worry for the KSU defense, as he is averaging 6.3 yards per carry and had 153 yards and two TD in the regular season win over the Wildcats in the regular season.
Kansas State has only given up an average of 19.4 ppg but they have given up 58 points in the last two games and gave up 38 points in the loss to TCU this season. That unit ranks 51st in the nation in pass defense and 53rd in run defense.
Our Pick
Can't wait for this one. This is a game between two teams we keyed in on several times this year. We love both of these teams.
Kansas State has the edge defensively and whether or not Adrian Martinez plays this week is obviously a huge wild card.
The two most important model runs we do are the ones that use the last 7 games of data and the full season data. Both of those runs have Kansas State 30-27 and remember, several games were played without Martinez.
But this has been a magical season for TCU and we don't see it ending here. We think it continues this week and lands them in the final four.
The Horned Frogs certainly sent a message last week by dismantling Iowa State. Providing they didn't leave it all on the field last week we think they find a away to win this one.
TCU ML -130