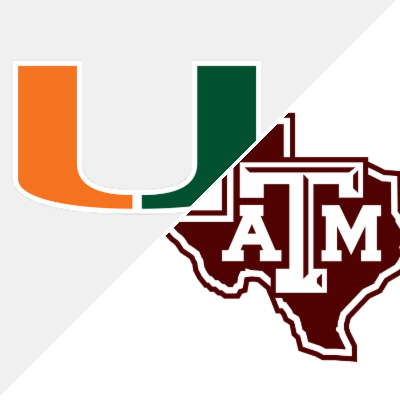 Texas A&M will host Miami Florida this week in a game scheduled to kick off in prime time at 9 PM EST. The Aggies opened as a -5.5 point favorite and currently sit at -6.5 as of Thursday afternoon. The total at betonline is 44.5.
Attribute the line move from -5.5 to -6.5 to the news that broke today that Miami star receiver Xavier Restrepo is out indefinitely with foot injury.
The Hurricanes are 2-0 though remain untested. Their two wins have come against Bethune Cookman, 70-13 and a not very good Southern Miss, 30-7. On the road at Texas A&M, we'll learn plenty about Miami.
The Aggies opened up their season with a 31-0 win over Sam Houston. They were then stunned last week at home by Appalachian State 17-14 which is troubling to say the least.
Aggies Lacking Offensively
Consider this. Appalachian State played North Carolina the week before and the game was a shootout which in the end was won by the Tarheels. En route to that win, North Carolina amassed 567 yards of offense on the App State defense. The Aggies could muster only 186. 97 through the air and 89 on the ground. Scary.
Even without Restrepo, there figures to be some hope for the Canes'. Sure, they haven't been tested by a legit opponent yet this year, however hopes are high down in South Florida. That's mainly due to the fact that they have a future 1st round draft pick behind center in Tyler Van Dyke. The kid is legit.
Using our model early in the season can be hit or miss. Teams play cream puffs early on and often those numbers need to be discarded. Using data from last season is really only helpful when teams are very high on the charts in terms of returning production. In other words, when it's basically the same team.
Both of these teams have some new faces and the jury remains out. We'll post the model results anyways just for kicks, but we're not buying this one.
Miami                     48.5          16           
Texas A&M                 -6.0          30 full season data
  
Miami                     48.5           8           
Texas A&M                 -6.0          23 last 4 games
  
Miami                     48.5          13           
Texas A&M                 -6.0          32 last 7 games
Our Pick
Credit the Aggies defense for keeping what looks to be a high powered App State offense in check. But the Texas A&M offense leaves a lot to be desired at this early point in the season. They certainly aren't a team we'd be comfortable laying points with from what we have see thus far.
Miami on the other hand has a pulse offensively. As mentioned they have a stud QB and while they are missing a key receiver, there's plenty of other targets. The more this line rises, the more we like Miami.
The Hurricanes are 1-5 since 2014 against the SEC. But they beat Florida, lost to Florida by 4 and lost to South Carolina by 3 in that stretch. Their losses came to Alabama and LSU.
We think Miami can make a game of this one. Who knows, maybe even an upset. But with that Texas A&M offense, this one should be close in the 4th quarter and taking points is where we want to be.
Miami Florida +6.5 (wait for +7?)
The UNDER made sense at 49. No value now