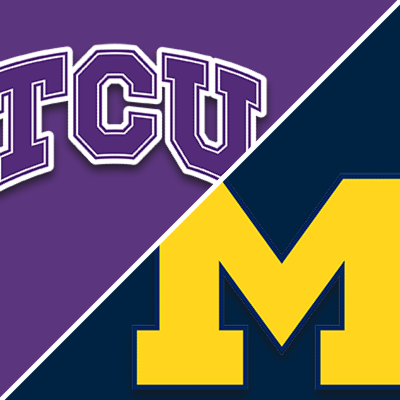 #3 TCU Horned Frogs (11-1) vs. #2 Michigan Wolverines (13-0)
In the CFP Fiesta Bowl undefeated Michigan clashes with TCU where the winner will play in the National Championship Game. The Wolverines are a 7.5-point favorite in the bowl with the total sitting at 58.5.
While Michigan is the higher ranked team and undefeated the betting public has really favored TCU. They opened as a 10-point underdog but as of December 26th they are a 7.5-point dog.
On the season TCU is 9-3-1 ATS with an O/U record of 7-6 and Michigan is 8-4-1 ATS with an O/U record of 5-8. 
This bowl game will be held at the neutral site of State Farm Stadium in Glendale, Arizona.
Get Over It
TCU was riding an undefeated season until the last game where they lost to Kansas State 31-28 in the Big 12 title game. The defense for the Horned Frogs has had some issues this season but they are the sixth highest scoring team in the nation (40.3 ppg) and rank 25th in both passing and rushing yards per game.
TCU's high-scoring offense is led by Heisman finalist Max Dougan (3,321 yards 30 TD 4 INT), who was also their third-leading rusher with 404 yards. while he, obviously, put up big numbers this season he did not pass for over one TD in three of the last four games.
The Horned Frogs have three players with at least 418 receiving yards. Top WR Quentin Johnston (903 yards 5 TD) had 139 yards in the loss to Kansas State in the Big 12 title game and while he is nicked up and listed as probable, he will play in this CFP game.
One player the Michigan defense has to worry about is RB Kendre Miller, who rushed for 1,372 yards on the season with 17 TD and averaged 6.2 yards per carry. After rushing for 100+ yards in five straight games he has not done so in any of the last three games where he has averaged 65 yards per game.
Michigan's defense ranks fifth in the nation only allowing an average of 13.4 ppg. They rank second in the nation on run defense and 19th on pass defense.
Michigan Can Score as Well
Not only does Michigan have a great defense but they rank seventh offensively putting up an average of 40.1 ppg. They are led by a run attack that ranks fifth in the nation in rushing yards per game and rank 93rd in passing yards per game.
J.J. McCarthy (2,376 yards 20 TD 3 INT) leads the offense and he passed for three TD in each of the last two games. Ronnie Bell leads three players that have at least 386 receiving yards with 754 yards. second leading target TE Colston Loveland was banged up in the last game and while not 100% he will play and fellow TE Luke Schoonmaker (199 yards) had three catches and 56 yards in the 43-22 win over Purdue in the Big 10 title game.
Star RB Blake Corum is out for the season with a knee injury but the Michigan run game has not missed a beat. Donovan Edwards (872 yards 7 TD) has started the last two games and has rushed for 185 yards and 216 yards, respectively, and on the season, he is averaging 7.5 yards per carry.
Michigan's offense will be facing a TCU defense that is giving up an average of 25 ppg and only ranks 69thin the nation in run D and 81st in pass D.
Betting Trends
TCU
9-3-1 ATS in their last 13 games overall
4-11 ATS in their last 15 neutral site games
Under record of 4-1 in their last 5 games overall
Michigan
19-7-1 ATS in their last 27 games overall
5-2 ATS in their last 7 non-conference games
0-5 ATS in their last 5 bowl games
Under record of 6-2 in their last 8 non-conference games
Our Pick
If we're going to handicap this game and make a selection based on stats alone, it's a slam dunk call for Michigan. We don't have the time or space to go into detail and show all of the statistical categories that Michigan is superior in on BOTH sides of the ball.
"Both" being the key word above. Because while TCU can move the ball with the best of them, they don't crack the top 50 on defense and that's cause for concern against this Michigan team.
Our model also likes Michigan to win by anywhere from 9 to 11 points.
With that said however, if the stats and the models were foolproof, we'd have a 100% winning percentage against the number. We don't, unfortunately.
There are times when the moment can overshadow the stats and we think that's the case here with TCU.
Two games stand out on the Michigan dance card this year. Their dominant win over Penn State and of course their win over Ohio State. But you'd be hard pressed to find any other games on their schedule that would make you say, wow!
They count among their victims this year teams like Colorado State, UCONN, Hawaii, Michigan State, Indiana and Nebraska. Those are bad teams folks. Even the teams they faced with a pulse were nothing to write home about. Does a 19-17 win over Illinois impress anyone? How about beating Maryland by a TD?
TCU on the other hand is battle tested. Take a glance at their schedule. They were tested week in and week out. You won't find many UCONNS and Hawaii's on their dance card. More like Kansas State twice, Baylor, Texas, Oklahoma and so on. You get the picture.
Let's put it another way. What do you suppose the TCU defensive stats would look like had they played the exact same schedule as Michigan? Right. They'd be much better. Likewise, had Michigan faced the number of offensive powerhouses TCU had to face, their defensive numbers likely would not be so fantastic.
This should be a good game and quite honestly there is no result that would surprise us. Close game. Blowout. It's all on the table. But we like our chances getting over a TD with a TCU team that was battle tested against a more difficult schedule than the Wolverines.
TCU +7.5