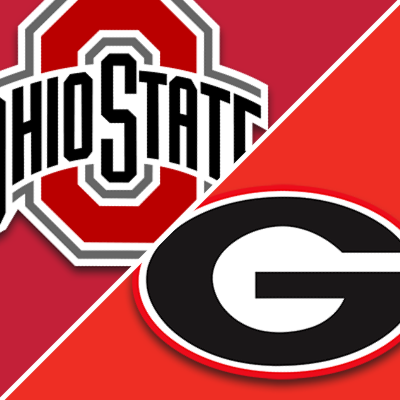 #4 Ohio State Buckeyes (11-1) vs. #1 Georgia Bulldogs (13-0)
Undefeated and top-ranked Georgia takes on Ohio State in the CFP Peach Bowl where the winner will play for the National Championship. The Bulldogs are a 6.5-point betting favorite with the total sitting at 62.5.
While Georgia is unbeaten the betting public has slightly backed Ohio State in this CFP game, as they opened as a 7-point underdog and as of December 26th they are a 6.5-point dog.
On the season Ohio State is 5-6-1 ATS with an O/U record of 9-3 and Georgia is 7-6 ATS with an O/U record of 5-7-1. 
This game is a matchup of seconds, as Heisman finalist CJ Stroud leads an Ohio State offense that ranks second in the nation in points per game (44.5) and Georgia's defense  ranks second in points allowed per game (12.8).
This CFP game will be held at the neutral site of Mercedes-Benz Stadium in Atlanta, Georgia.
The Fortunate Ones
Ohio State is back in the CFP and are fortunate to be in that position, as the USC loss to Utah in the Pac 12 title game gave them their shot. The Buckeyes rank 14th in the nation in passing yards per game and 28th in rushing yards per game.
Stroud passed for 3,340 yards with 37 TD and only six INT and while he passed for 349 yards with two TD the loss to Michigan in the season finale, he was picked off twice. He has the luxury of having two of the better WR's in the nation in Marvin Harrison Jr. (1,157 yards 12 TD) and Emeka Egbuka (1,039 yards 9 TD).
Miyan Williams led the Buckeyes with 817 yards and 13 TD, averaged 6.5 yards per carry but he only rushed for 34 yards on eight carries in the loss to Michigan. OSU also has the RB duo of TreVeyon Henderson and Dallas Hayden, who combined for 1,081 yards and 11 TD.
While Georgia "only" ranks 57th in the nation in pass defense they lead the nation in run defense and their pass rush racked up 26 sacks.
Legit On Both Sides of the Ball
Georgia not only ranks second in the nation in points against per game but rank 11th in ppg (38.7) and rank in the top 20 in passing and rushing yards per game.
On offense the Bulldogs are led by Heisman finalist Stetson Bennett (3,425 yards 20 TD 6 INT) and after three picks in two games he has none, with six TD, in the last two games.
UGA has five players with over 303 receiving yards led by TE Brock Bowers (726 yards 6 TD) but lead WR Ladd McConkey (675 yards 5 TD) was injured in the SEC title game and is listed as questionable for this CFP game.
The Bulldogs are loaded in the backfield with the RB trio of Kenny McIntosh (709 yards 10 TD), Daijun Edwards (681 yards 10 TD), and Kendall Milton (533 yards 6 TD).
Ohio State does rank a legit 13th in the nation in pass defense and 22nd in run defense but in the 45-23 loss to Michigan in their season finale they gave up 530 total yards, including 252 rushing yards.
Betting Trends
Ohio State
1-4 ATS in their last 5 games overall
2-6 ATS in their last 8 non-conference games
1-5 ATS in their last 6 neutral site games
Over record of 9-1in their last 10 games
Georgia  
8-2 ATS in their last 10 bowl games
4-1 ATS in their last 5 neutral site games
Under record of 4-1-1 in their last 6 non-conference games
Our Pick
This should be a highly entertaining affair and one most college football fans are looking forward to in a big way. One mistake so many bettor make is that they fell they simply HAVE to have a play on a big game like this, whether or not they like a side!
Truthfully we've been back and forth on this game and can make a case for either team.
Statistically speaking, using all of the different metrics we use to come up with a numerical difference between two teams, Georgia is the play.
Here are the results from our model.
Ohio State                60.5          19   NEUTRAL 
Georgia                   -6.5          28 full season
  
Ohio State                60.5          27   NEUTRAL 
Georgia                   -6.5          33 last 4 games
  
Ohio State                60.5          21   NEUTRAL 
Georgia                   -6.5          32 last 7 games
You can see that 2 of the 3 sets of predictions favor Georgia -6.5. Only the prediction using the last 4 games has the Buckeyes covering by a nose.
But as we have mentioned in previous bowl write ups, these games are so different than regular season games when teams generally have just a week to prepare for an opponent.  A month to prepare is a ridiculously long time. No stone is left unturned and these coaching staffs are top notch.
Coming into this season the one weakness the Buckeyes felt they had to address was their defense. A solid defense was the missing link to a National Championship. So did they accomplish that goal? Well, the Michigan Wolverines would say no.
But again, a month to prepare and the defense is in fact better than it was a year ago and we think it's the key to this game.
The predictions from the model all come in under the current posted total. We know the Georgia "D" is tremendous but think the Buckeye defense shows up here as well.
Georgia/Ohio State UNDER 63