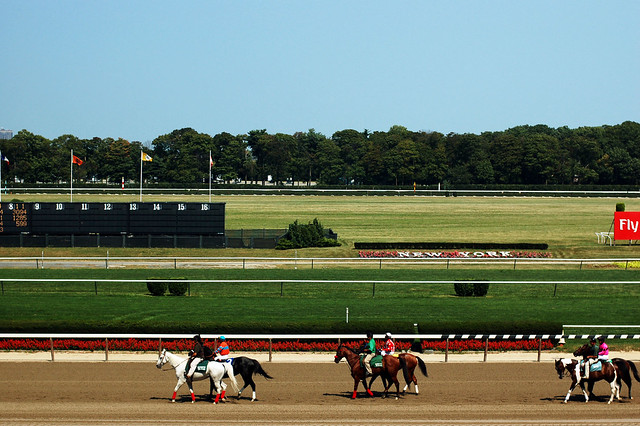 The Belmont Stakes takes place on Saturday, June 8th and while there will be no Triple Crown winner this year, the race will still provide plenty of betting opportunities and excitement.
Here is a look at all of the entries for the Belmont Stakes.
#1 Joevia (Shanghai Bobby, Peace Process by War Front)
Trainer: Gregory Sacco
Jockey: Jose Lezcano
Owner: Michael and Jeff Fazio
Odds: 30-1
Comment: Could break sharply from the rail and find himself in front in the early going. Hard to envision him stealing away, but if the other horses let him dawdle up front then a shocking upset is not out of the realm of possibility. Worth using on deep tickets.
#2 Everfast (Take Charge Indy, Awesome Surprise by Awesome Again)
Trainer: Dale Romans
Jockey: Luis Saez
Owner: Calumet Farm
Odds: 12-1
Comment: Enjoyed a rail run en route to a second place finish at 29-1 in the Preakness. I don't see much pace in this race and a result I don't see much hope for this closer that likes to come from the clouds.
#3 Master Fencer (Just a Way, Sexy Zamurai by Deputy Minister)
Trainer: Koichi Tsunoda
Jockey: Julien Leparoux
Owner: Yoshizawa Katsumi
Odds: 8-1
Comment: Closed a lot of ground in the late stages of the Kentucky Derby where he finished seventh (sixth via DQ). Completely unknown commodity that could certainly win. The Japanese horsemen come to the US sales every year and buy up our best bloodstock and the differential quality in their thoroughbred and ours is little to none. He can definitely win, but his late running style is a concern.
#4 Tax (Arch, Toll by Giant's Causeway)
Trainer: Danny Gargan
Jockey: Irad Ortiz, Jr.
Owner: R A Hill Stable & Reeves Thoroughbred Racing
Odds: 15-1
Comment: Benefits from the pickup of jockey Irad Ortiz who is an improvement over Junior Alvarado. Also benefits from a running style that will have him on or near the lead in the early stages of this race. Threat to win.
#5 Bourbon War (Tapit, My Conquestadory by Artie Schiller)
Trainer: Mark Henig
Jockey: Mike E. Smith
Owner: Bourbon Lane Stable and Lake Star Stable
Odds: 12-1
Comment: If the chatter around the internet is any indication then this contender will take much more action than his 12-1 morning line odds indicate. He flopped in the Preakness, but was wearing blinkers for the first time in that start. They will come off here. Others are more enticing.
#6 Spinoff (Hard Spun, Zaftig by Gone West)
Trainer: Todd Pletcher
Jockey: Javier Castellano
Owner: Wertheimer & Frere
Odds: 15-1
Comment: Has the perfect running style for this race and is fast enough to get the job done. Dangerous win contender for top connections.
#7 Sir Winston (Awesome Again, La Gran Bailadora by Afleet Alex)
Trainer: Mark Casse
Jockey: Joel Rosario
Owner: Tracy Farmer
Odds: 12-1
Comment: Finished well to be second in the Peter Pan Stakes when last seen, but might not be ready for this caliber of competition just yet. Not impossible, but will need things to go his way.
#8 Intrepid Heart (Tapit, Flaming Heart by Touch Gold)
Trainer: Todd Pletcher
Jockey: John Velazquez
Owner: Robert & Lawana Lowe
Odds: 10-1
Comment: Promising contender is lightly raced, but his future Hall of Fame trainer is signaling confidence by entering him in this race. Watch the odds board on race day. If he is above 8-1 then he's worth the risk. Otherwise, there isn't enough value.
#9 War of Will (War Front, Visions of Clarity by Sadler's Wells)
Trainer: Mark Casse
Jockey: Tyler Gafflione
Owner: Gary Barber
Odds: 2-1
Comment: Hollywood connected owner Gary Barber couldn't have written a better script for this colts trip en route to Preakness glory if he tried. Everything went perfect for him that day. Most importantly, he was able to ride the rail which appeared to be the best part of the track. Would surprise nobody if he wins, but I'm fading him at such low odds.
#10 Tacitus (Tapit, Close Hatches by First Defence)
Trainer: Bill Mott
Jockey: Jose Ortiz
Owner: Juddmonte Farms
Odds: 9/5
Comment: Clearly the best horse in the race. Needs to be closer to the early pace to avoid jeopardizing his chances to win. If he does that then he is the most likely winner. Ignore at your peril.
1st: Tacitus 9-5
2nd: Tax 15-1
3rd: Spinoff 15-1