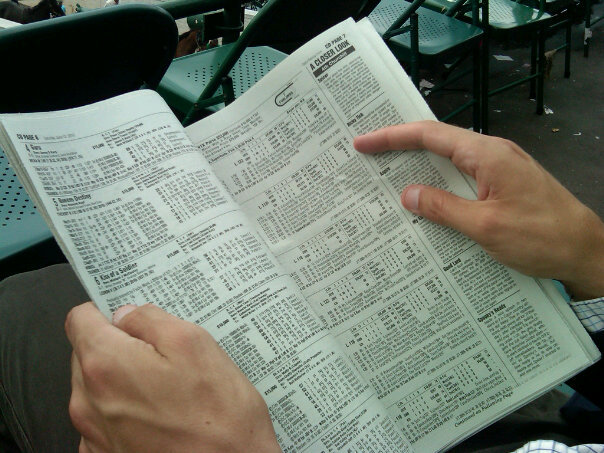 Our first article covered vertical wagering for the 2019 Belmont Stakes. Now, let's breakdown horizontal bets.
That is, the daily double, pick 3, pick 4 and pick 5. The key to winning bets like this one is to play several different tickets with singles in different races. The more horses you use, the larger your bet cost becomes and therefore finding singles is essential.
Daily Double (Manhattan Stakes, Belmont Stakes)
In the Manhattan Stakes, it is hard to look past the Chad Brown quartet of #1 Raging Bull 10-1, #3 Robert Bruce 6-1, #7 Olympico 6-1 and #8 Bricks and Mortar 7/5. They comprise 40% of the field and the winner figures to be one of them.
In the Belmont Stakes, we are having a hard time looking past the favorite, #10 Tacitus. Also considered for the win spot are #4 Tax 15-1, #6 Spinoff 15-1 and #8 Intrepid Heart 10-1.
It makes sense to single #8 Bricks and Mortar and pair him with #4 Tax, #6 Spinoff and #8 Intrepid Heart as well as playing a straight ticket of #8 Bricks and Mortar with  #10 Tacitus, but for a larger dollar amount.
Daily Double bettors might also consider playing #1 Raging Bull, #3 Robert Bruce and #7 Olympico with just #10 Tacitus in the second leg of the wager.
Pick 3 (Metropolitan Handicap, Manhattan Stakes, Belmont Stakes)
#1 Coal Front 6-1, #2 McKinzie 5-2, #3 Mitole 3-1 and #6 Promises Fulfilled 12-1 all have winning shots in the Met Mile.
This isn't a good race to single and all four should be included. A fifth horse, #7 Firenze Fire 4-1 could be added as an insurance policy. You might consider using them with any combination of the above listed horses in the Manhattan and Belmont Stakes.
Pick 4 (Woody Stephens Stakes, Metropolitan Handicap, Manhattan Stakes, Belmont Stakes)
#1 Honest Mischief 6-1 looked like the next coming of Secretariat when breaking his maiden last out, but concedes experience to his foes and will need a sharp start from his rail post to win. He is worth using as a single on a ticket or two.
#7 Strike Silver 20-1 could improve while returning to the dirt for the first time since finishing second in last years Sanford Stakes. Don't be surprised to see him run well under top jockey Irad Ortiz.
#11 Wendell Fong 10-1 has tactical speed and experience on his side. He's fast enough to score the upset at a good price.
Pick 5 (Acorn Stakes, Woody Stephens Stakes, Metropolitan Handicap, Manhattan Stakes, Belmont Stakes)
#1 Serengetti Empress 5-2, winner of the Kentucky Oaks, looks very tough, but isn't the favorite. That distinction belongs to #7 Guarana 2-1 whose lone start was a 14 length win against maidens in the slop at Keeneland. Impressive, to be sure, but it is absurd for her to be favored over a filly that just powerfully won the filly equivalent of the Derby.
You need singles in a sequence like the Pick 5 and Serengetti Empress is as good as any of them. Single her on at least one ticket. For those playing multiple tickets, you might also consider #5 Fancy Dress Party 10-1 and #8 Queen of Beas 12-1.