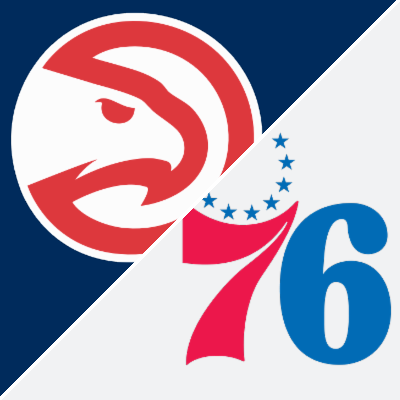 Atlanta Hawks (46-32 44-33-1 ATS) at Philadelphia 76ers (53-25 41-34-3)
The Hawks scored an upset in the first round of this playoff series with a win over the top-seed in the Eastern Conference in the 76ers. This Game 2 in the City of Brotherly Love can be seen on TNT.
The 76ers are a 4.5-point home favorite in Game 2 with the total sitting at 222.5.
The Hawks have won four straight games and only have one playoff loss. In their last game Trae Young came up big going for 35 points in the 128-124 win. Atlanta won the last game behind a strong offensive performance while they won their previous three games with a solid defense that only gave up an average of 93 ppg.
The 76ers have lost two of their last three games and with the last loss gave up home court advantage in this series. While their D was solid in the regular season ranking seventh giving up an average of 109.4 ppg they have given up at least 122 points in the two losses in their last three games.
Atlanta covered the spread in Game 1 as a 4.5-point underdog but they are still only 2-5 ATS in their last seven games facing the 76ers in Philly.
Great Start
In the 128-124 win in Game 1 the Hawks got off to a great start with a 15-point lead after the first quarter and a 20-point halftime lead.
The Hawks shot a lower FG% than the 76ers in the last game (51.2% to 54.9%) but shot the 3-pointer better (42.6% to 34.5%) and they only missed one free throw (20-21) while the 76ers missed 11 (24-35).
Young (25.3 ppg) had 35 points on 11-23 shooting and also had 10 assists and John Collins (17.6 ppg) and Bogdan Bogdanovic (16.4 ppg) each went for 21 points.
Young is averaging 29.2 ppg in the post-season and has totaled 71 points in his last two games. Collins has been up and down in terms of scoring but has scored at least 21 points in two of his last three games and in his last four games has shot at least 54.6% from the floor.
While Bogdanovic had 21 points in the Game 1 win he did not have the best shooting game (41.2%) and in his last three games is shooting just 38% from the field.
The Hawks have covered the spread in their last four games.
Avoid Early Hole
In Game 2 the 76ers have to avoid getting in an early hole, as while they played better in the second half outscoring the Hawks by 16 points it was not enough.
Joel Embiid (28.5 ppg 10.6 rog) had a game high 39 points on 12-21 shooting and hit 14 of his 15 free throws. Tobias Harris (19.5 ppg 6.8 rpg) had a double-double with 21 points and 10 boards and shot 61.5% from the floor.
Ben Simmons (14.3 ppg 7.2 rpg 6.9 assists per game) had 17 points on perfect shooting (7-7) but was only 3-10 from the free throw line and that hurt in the close game.
Embiid played big in Game 1 even though he has a knee injury and missed the previous game.
The 76ers are 9-4-1 ATS in their last 14 games after a loss.
Prediction
The Hawks came out en fuego in Game 1 with a 20-point halftime lead and it hurt the 76ers, big time, that they missed 11 free throws. Young went off for 35 points and while he was primarily guarded by Danny Green I think possible Defensive Player of the Year Simmons will match up with him in this game. Philly will not get into a big hole again and they will play better defense, which is why they will win and cover the spread to even this series, which heads to Atlanta.
PICK: 76ers -4.5