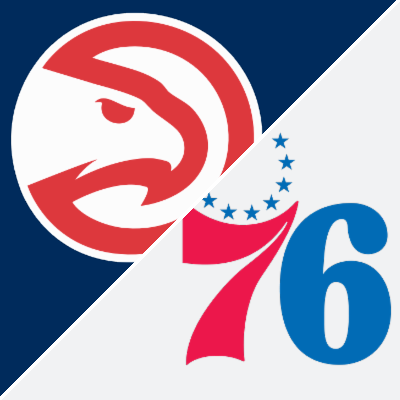 Atlanta Hawks (46–34 44-35-1 ATS) at Philadelphia 76ers (55-25 43-34-3 ATS)
After losing badly in two straight games the Hawks bounced back in their last game beating the 76ers to tie this series at two games apiece. This Eastern Conference playoff game can be seen on TNT.
Back in Philly for Game 5 oddsmakers have the 76ers as a 6.5-point home favorite with the total sitting at 224.5
The Hawks beat the 76ers 103-100 in Game 4 where they played great D in the second half outscoring Philly 54-38. The team showed moxie in the game, as they came back from an 18-point deficit to win.
The 76ers had won Games 2 and 3 by double figures before barely losing Game 4 where they fell apart in the second half. They could not hold a big lead and star Joel Embiid went 0 for 12 in the second half.
Atlanta has failed to cover the spread in four of their last five road games against the 76ers.
Stats Don't Tell the Story
The Hawks won Game 4 with a big second half but for the game they were outshot 43.5% to 36.6% and 40.7% to 30% from behind the 3-pt arc.
Trae Young went for 25 points and had 18 assists in the Game 4 win but was only 8/26 from the floor and missed eight of his 11 3-pointers. Bogdan Bogdanovic and John Collins combined for 36 points but only on 15/39 shooting.
Atlanta had a bad shooting Game 4 but came up big in the second half and they only turned the ball over four times.
The Hawks have failed to cover in six of their last eight road games.
76ers Need the Big Guy
In the Game 4 loss Joel Embiid had 17 points and 21 rebounds but he missed time in the locker room with a knee issue and was only 4/20 from the floor. He is playing with torn cartilage in his right knee and had averaged 35.3 ppg on 53% shooting in the first three games of this series.
In the last game Tobias Harris went for 20 points, he has gone for at least 20 points in seven straight games, and Ben Simmons was one assist shy of a triple-double with 11 points, 12 rebounds, and nine assists.
The 76ers could not hold onto a big lead in the last game and took the loss even though they held Atlanta to 36.6% shooting. Embiid is banged up but look for him to bounce back in this game after a terrible last one.
Philadelphia is 9-3 ATS in their last 12 games as a home favorite.
The Prediction 
The Hawks evened the series in the last game even though they shot the rock poorly. They will not enjoy another terrible game from Embiid, who will be solid in Game 5. The 76ers had averaged 123 ppg in the first three games of this series before only scoring 100 in the last game. Their offense will roar back in Game 5 behind a big game from Embiid and Philly will win and cover the spread as well taking a 3-2 series lead.
PICK: 76ers -6.5