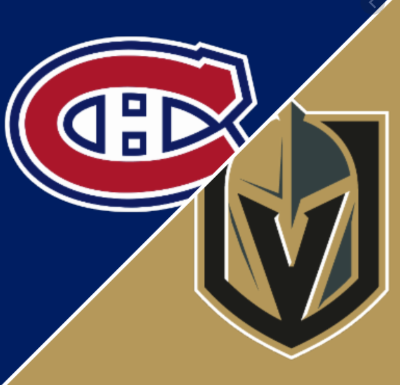 Montreal Canadiens (32-24-11) at Vegas Golden Knights (48–17–4)
The Canadiens have been the Cinderella team of the playoffs with two upsets in their first two rounds but are coming off a bad loss to Vegas in the first game of this series. This NHL playoff game can be seen on NBCSN.
The Golden Knights are a huge betting favorite in Game 2 at -270 with the Canadiens at +220 and a total of 5.5 goals.
Montreal had won seven games in a row before falling to the Golden Knights 4-1 in Sin City in Game 1 of this series. They had scored eight goals in their previous two games and while they have won two series, they are only averaging 2.42 goals per game, which is less than they averaged in the regular season.
The Golden Knights have won five in a row and their offense has been clicking. They scored four goals in the first game of this series and in their last one facing a Colorado team they were tied for the most points this season they swept them outscoring them 17-8.
The Canadiens had won four in a row against the Golden Knights before losing Game 1 of this series.
Not Quite the Same Team
In the Game 1 loss to Vegas the Canadiens did not look like the same team that swept the Winnipeg Jets in the previous series where they only gave up sox goals. Cole Caufield scored his first goal of the playoffs in the loss where Montreal was outshot 30-29.
One of the main reasons the Canadiens have been a surprise in the playoffs is the play of goalie Carey Price (12-7-5 2.64 GAA regular season). He has a playoff GAA of 2.15 and had only given up three goals in three starts before the last game where he gave up four goals on 30 shots.
Montreal has been winning in the playoffs with a defense that has only given up an average of 2.33 goals per game but that D was not up to par in the last game.
Through 12 playoff games Tyler Toffoli (11 points 4 goals 7 assists) is the only Canadiens player with more than eight points and he has two goals and three assists over his last four games.
Attack Stays Hot
The Golden Knights ranked third in the regular season in goals per game (3.39) and they have averaged 4.2 goals per game in winning their last five games.
In the Game 1 win Shea Theodore scored the first goal only 15 seconds into the first period and Alec Martinez, Mattias Janmark, and Nick Holden also lit the lamp.
Marc-Andre Fleury (26-10-0 1.98 GAA) turned away 28 of 29 shots in the Game 1 win, ranks second in the playoffs with a GAA of 1.84, and has only given up seven goals in his last four starts.
Vegas is getting it done in the post-season with team play, as they do not have a player that ranks in the top nine in the post season in points and the top six in goals. William Karlson leads the team with 12 points (4 goals 8 assists) and Jonathan Marchessault leads them with six goals.
Prediction 
The Golden Knights have won six of their last eight games as a playoff favorite and I look for that trend to continue. They were great on both sides of the ice in the convincing Game 1 win and they will keep their foot on the gas in this game at home. Vegas will not have a letup in Game 2 of this series and I look for another convincing win, as they will take a 2-0 series lead and head north of the border.
(Note – I think the Golden Knights will win by at least one goal, so you may want to take the puck like to get better odds).
PICK: Golden Knights -270