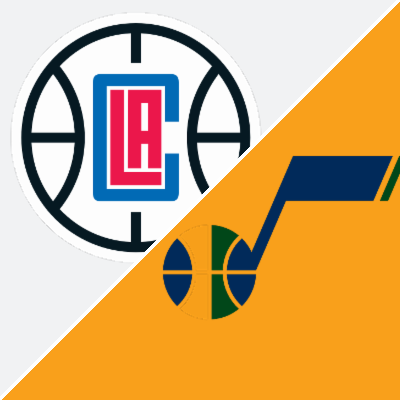 L.A. Clippers (51-29 44-36 ATS) at Utah Jazz (57-21 46-32 ATS)
Since losing their first playoff game the Jazz have won five in a row and they beat the Clippers in Game 1 of this series. This game can be seen on ESPN.
Oddsmakers have the hometown Jazz as a 3-point favorite in Game 2 with a total of 221.
The Clippers lost the first game of this series 112-109 and they also lost the first two games of their last series. Paul George did score 14 points in the game but was only 4/17 from the floor and Playoff P needs to get back on track for L.A. to win this game and tied the series.
The Jazz won Game 1 with star Donovan Mitchell going for 45 points and the team came back from a 13-point deficit. They won two of three games facing L.A. in the regular season and won in the lone home game facing them.
Not only are the Jazz 4-1 ATS in their last five games facing the Clippers but 21-8-1 ATS in their last 30 games facing them at home.
Can't Close the Deal
In the Game 1 loss the Clippers got off to a great start but were outscored by 16 points in the second half. They shot a better FG%, 3-pt FG%, and free throw percentage but they were held to six buckets in the third quarter and in the last 20 minutes of the game were only 5-19 from the floor.
Kawai Leonard (24.8 ppg) had 23 points in the Game 1 loss but has struggled with his 3-ball in the last few games. George (23.3 ppg) has scored at least 20 points in the last three games but in that span has averaged 32.3% shooting from the floor.
Ivica Zubac (9 ppg) was the only other player to go for double figures in the Game 1 loss with 11 points and Reggie Jackson (15.4 ppg) and Marcus Morris Sr. (11.4 ppg), who only combined for 18 points on 7-20 shooting have to give help in the scoring department.
The Clippers are only 4-9 ATS in their last 13 when their opponent scores 100 points or more in their previous game.
Big Star Shines
In the Game 1 win Donovan Mitchell (26.4 ppg) came up big going for a game-high 45 points on 16-30 shooting. Bojan Bogdanovic (17 ppg) and reserve Jeremy Clarkson (18.4 ppg) each went for 18 points and Rudy Gobert had 10 points and 12 rebounds.
Mitchell has scored at least 30 points in each of his last three games and in his last two games has shot at least 53.3% from the floor.
While the Nuggets allowed the Clippers to shoot a higher FG% and 3-pt FG% they held Leonard to 23 points and if they can keep him and PG in check they will take a 2-0 series lead.
The Jazz have not only won their last five games but covered in all of them as well.
The Prediction 
The Clippers need better games from Leonard and PG they will get them in this game. A lot of the trends point to the Jazz in this game but I am going to buck those trends. L.A. will come out strong in this game, especially on the defensive end of the floor. They will not allow Mitchell to go big again and the L.A. stars will shine. In this Game 2 take the Clippers and the points.
PICK: Clippers -3