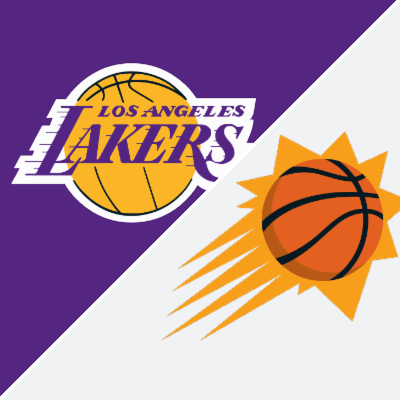 L.A. Lakers (45-32 34-41-1 ATS) at Phoenix Suns (53-23 44-30-2 ATS)
Not only did the Lakers lose Game 4 to tie the series but star Anthony Davis left the game with a groin injury and is listed as day-to-day. This Western Conference playoff game can be seen on TNT,
The Suns are a 4.5-point home favorite in Game 5 with a total of 209.5.
Ad crumpled to the floor late in the first half of Game 4 after missing a layup and did not return. If he cannot go it will be a big blow to the defending champions. He struggled in the Game 1 loss but was huge in Games 2 and 3 where he scored 34 points on solid shooting in each game and totaled 21 rebounds.
While AD's inury may keep him off the floor Suns PG Chris Paul taked head coach Money Williams into letting him play in the last game and the star responded with 18 points and nine assists in the 100-92 win.
The Lakers' need to get back to scoring in this game but that will be much more difficult if AD cannot go. In the two losses in this series they have scored 90 and 92 points, respectively, while in the two wins scored 109 points in each.
The Lakers have covered the spread in their last four games after a loss.
Struggling Without a Star
In the 100-92 loss in Game 4 the Lakers were outscored 27-15 in the third quarter with AD out. L.A. did not play bad defense in the game holding the Suns to 43.5% shooting but they only shot 39.5% from the field.
On the season the Lakers are 11-7 when LeBron James played and AD did not. However, they only won one of seven games against teams that made the playoffs.
King James had 25 points with 12 boards and six assists but he missed six of his seven 3-pointers. No other starter scored in double figures but three reserves did in Kyle Kuzma (11 points), Anthony Caruso (10 points), and Marc Gasol (12 points).
The Lakers will really need third leading scorer Dennis Schroder (15.4 ppg) to turn it around, as he only had eight points on 23.1% shooting in Game 4 after totaling 44 points in the previous two games.
Not only is AD a question mark, but Kentavious Caldwell-Pope (9.7 ppg) is also listed as questionable for Game 5 and he did not play in Game 4 with a knee injury.
Balance and Solid D Help Tie Series
In the Game 4 win the Suns played solid defense holding L.A. to 39.5% shooting and while the Lakers only had one starter go for double figures all five Phoenix starters did.
Chris Paul led the way with 18 points in the last game and Jae Crowder and Devin Booker had 17 points. Deandre Ayton had 14 points and was a monster on the glass with 17 rebounds.
Ayton (14.4 ppg 10.5 rpg) has averaged 19.8 ppg and 13.5 rpg in this series and has shot at least 73.3% from the floor in every game.
Booker (25.6 ppg) led the Suns in scoring on the season and after averaging 31.7 ppg over the first three games of this series he has only totaled 36 points in the last two games where he struggled with his shot.
Prediction
While the Lakers are 4-0 ATS in their last four games after a loss they are only 1-5 ATS in their last 6 games as a road underdog and 2-14 ATS in their last 16 playoff games as an underdog. On top of that the team may be without AD in this game. Still, I am sticking with the King, as James, who has never lost a first round playoff series in his career, will step up and carry the load. Even if AD does not play take the Lakers and the points.
PICK: Lakers +4.5