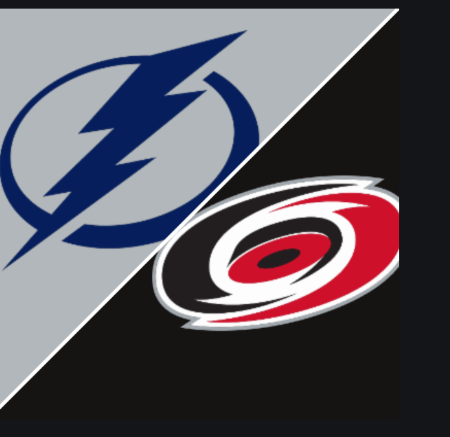 Tampa Bay Lightning (41-18-4) at Carolina Hurricanes (40-13-10)
The Lightning beat the Hurricanes in Game 1 of this playoff series and look to take a 2-0 lead before going back home. This game can be seen on NBCSC.
Both teams for this Game 2 are posted at -110 with a total of 5.5 goals.
The Lighting beat the Canes 2-1 in Game 1 after dispatching the Florida Panthers in their first series. The team is a balanced one and during the regular season ranked tied for seventh in goals per game and fifth in goals allowed per game. Their D has killed it as of late only allowing one goal in their last two games.
The Hurricanes beat the Nashville Predators in six games in their first series. In he regular season they split the eight games facing Tampa Bay. While Carolina has a solid attack they are led by a defense that only gave up an average of 2.39 goals per game.
The home team is 15-7 in the last 22 games between these teams.
Only One in Game 1
The Lightning played great defense in Game 1 only allowing one goal in the 2-1 win where they were outshot 38-30.
In the Game 1 win Barclay Goodrow and Brayden Point each scored a goal and Andrei Vasilevskiy (31-10-1 2.21 GAA regular season) was great in between the pipes turning away 37 of 38 shots.
Vasilevskiy has a GAA of 2.44 in the playoffs and he has only allowed one goal in his last two starts. He will likely get the call in this game, as he has started every playoff game so far.
Braden Point has five goals in the playoffs to lead Tampa Bay and he has lit the lamp in each of the last two games. Nikita Kucherov has 12 points in the post-season (3 goals 9 assists), had an assist in Game 1 of this series, and has three points over his last two games.
Tampa Bay is 59-14 in their last 73 after scoring 2 goals or less in their previous game.
Attack Falls Flat
In the Game 1 loss the Hurricanes attack fell flat with only one goal and they had scored seven goals in their previous two games.
In the loss in the last game Jake Bean scored the lone goal and Alex Nedeljkovic (15-5-3 1.90 GAA regular season ) stopped 28 of 30 shots.
Nedeljkovic has a playoff GAA of 2.19 after leading the league in that category in the regular season. He has given up five goals in his last two starts. He has been in goal in every game in the playoffs and look for him to be between the pipes in this game.
Carolina has five players that have scored at least two goals in the playoffs led by Sebastian Aho (5 goals), who scored two goals in the last game of the last series. The offense had averaged 3.66 goals per game in the last series against the Predators before only scoring one goal in the last game.
The Hurricanes are 8-2 in their last 10 after scoring 2 goals or less in their previous game.
Prediction
 The Canes were held to only one goal in the Game 1 loss and they had scored at least three goals in all six games of the last series. I see their attack playing much better in this game facing a solid Tampa Bay defense that has only given up one goal in their last two games. Carolina also played good D in the last game, despite the loss, and I look for that to happen again. I see a close one in Game 2 and this time around the Hurricanes will get the win on home ice and tie the series.
PICK: Hurricanes -110