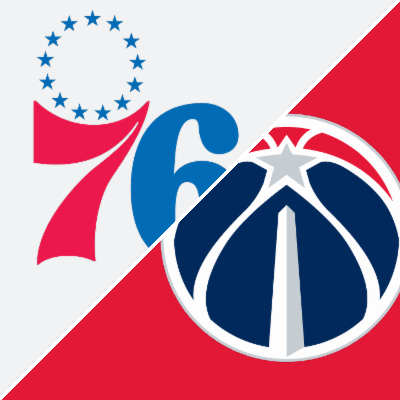 Philadelphia 76ers (51-23 39-32-3 ATS) at Washington Wizards (35-41 42-31-1 ATS)
The 76ers have won the first two games of this series at home and look to take a 3-0 lead in the Nation's Capital on Saturday night. This Eastern Conference playoff game can be seen on ESPN.
The 76ers are a 5.5-point road favorite in this game with the total posted at 227.5.
In Game 2 the 76ers handed the Wizards a 120-95 beat down in a game that did not lack drama. Star Russell Westbrook hurt his ankle and while going back to the locker room a fan dumped a bucket of popcorn on him and Westbrook had to be restrained by security.
The 76ers not only have won the first two games of this series but beat the Wizards all three times in the regular season.
While Philadelphia is only 2-5 ATS in their last seven road games they are 9-3-1 ATS in their last 13 games as a road favorite.
Great All-Around Game
After a 125-118 win in Game 1 of this series where the 76ers did not play great defense they played a great all-around Game 2 in the 120-95 win. They shot a more than solid 55.7% from the floor, held the Wizards to 40.2% shooting, and led by as many as 27 points.
The stars really shot the rock well for Philly in Game 2 with Joel Embiid and Ben Simmons each scoring 22 points on 19/27 combined shooting and Tobias Harris went for 19 points on 9/13 shooting.
While Embiid (28.5 ppg 10.6 rpg) has not had big rebounding numbers in the series he has totaled 52 points and shot at least 56.3% from the floor in both games.
Simmons (14.3 ppg 7.2 rpg 6.9 assists per game) only scored six points in Game 1 on poor shooting but had 15 boards and 15 assists. He came close to a triple-double in Game 2 with 22 points, nine rebounds, and eight assists.
On the season the 76ers are 20-16 on the road and they won the lone meeting with the Wizards in Washington.
Hoping the Shots Fall At Home
After a decent shooting performance in Game 1 the Wizards struggled with their shot in Game 2. They only shot 40.2% from the floor and they were ice-cold from deep missing 20 of their 22 3-pointers (9.1%).
The Wizards have to score to win, as this season they were the worst defensive team in the league giving up an average of 120.2 ppg.
Westbrook (22.2 ppg 11.5 rpg 11.7 assists per game) is listed as questionable for this game with his ankle injury, but I would be surprised if he did not go. If he does it is pretty obvious he needs to play better than in Game 2 where he only had 10 points on 2/10 shooting with four turnovers in 29 minutes. He also did not have a good Game 1 with 16 points on 41.2% shooting.
Bradley Beal (31.3 ppg) had played well in the series where he scored 33 points in each game and in each shot at least 50% from the floor.
Washington is a high-scoring team that needs to score with the defense they have. Beal needs some help and hat is especially the case with a hobbled Westbrook. The two Wizards' stars have to move the ball around to get scoring. Rui Hachimura (13.8 ppg) needs to get more looks, as he has only totaled 23 points in this series but has shot at least 62.5% from the floor in both games.
Prediction
Even if Westbrook comes back and is 100% I would still take the 76ers in this game. They lit up the Wiz in Game 2 and their starts shone brightly. Washington cannot stop the scoring options for the 76ers and if they do not light up the scoreboard they will not win. I do not see them doing that in this game, which is why Philadelphia is the pick even giving 5.5 points on the road.
PICK: 76ers -5.5